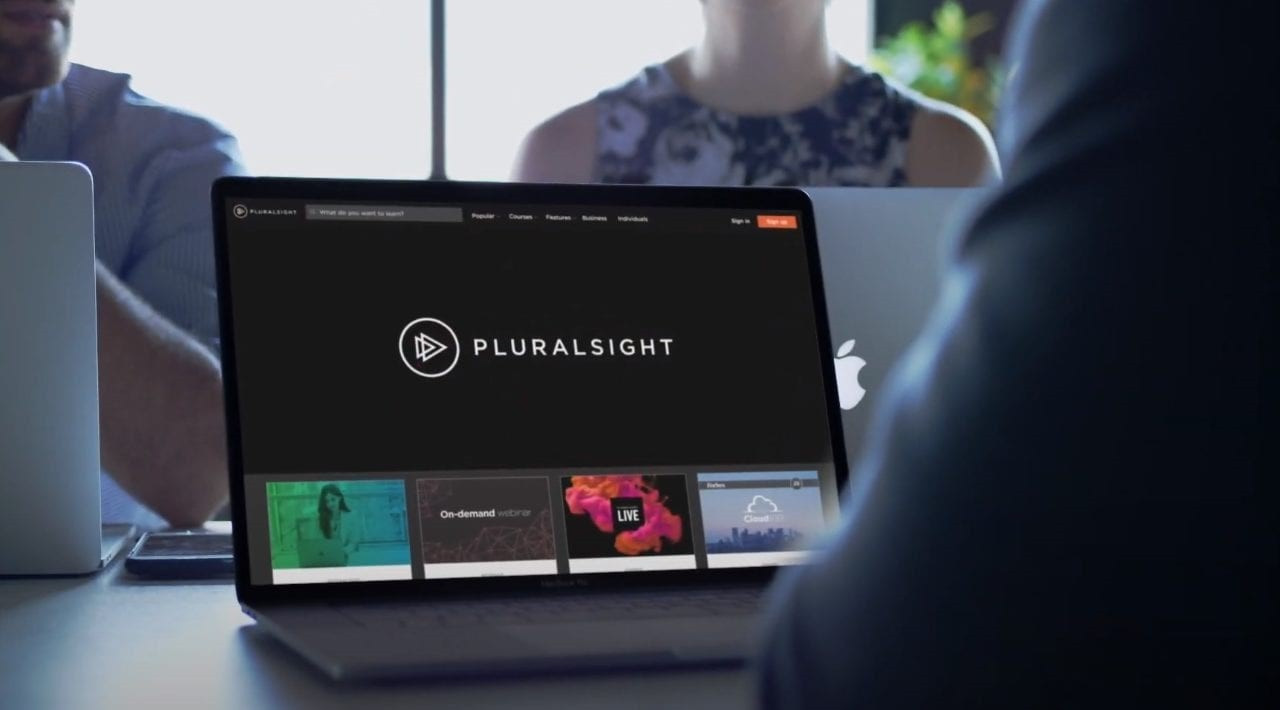 What is Pluralsight?
Pluralsight is an online learning platform where you can find thousands of video courses, interactive courses, practical projects (Premium only), webinars and much more. Pluralsight platform provides a wide range of courses on a technical topic, from software development, to data processing, cybersecurity, etc. Courses on the platform are created by more than 1,500 industry experts and partners (Google, Adobe, Oracle, Microsoft, etc.)
At the initial stage, before buying any course, you can take a mini-test of several questions to determine your level of knowledge.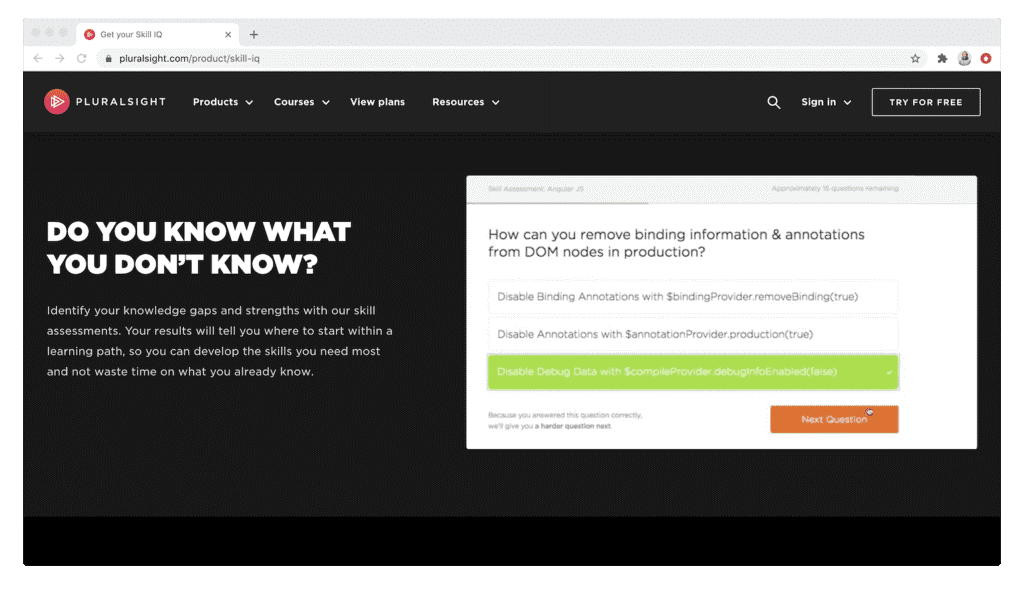 Pluralsight Advantages
Large selection of courses: 6000+ courses, on average more than 80 new courses are added monthly
Mobile and desktop applications (Android, iOS)
Short self-study quizzes to test retention
Programming courses are offered for intermediate and advanced levels.
Certificates of completion are provided after the completion of the certification.
Trained by experienced instructors
Various ways of organizing training
More community providing training support
Disadvantages of Pluralsight
No Lifetime Access: If you stop paying, you will lose access
Subscription pricing model, you can't buy just one course.
Some courses are outdated
Directions of Pluralsight courses
Pluralsight resources cover dozens of technical areas, including, but not limited to: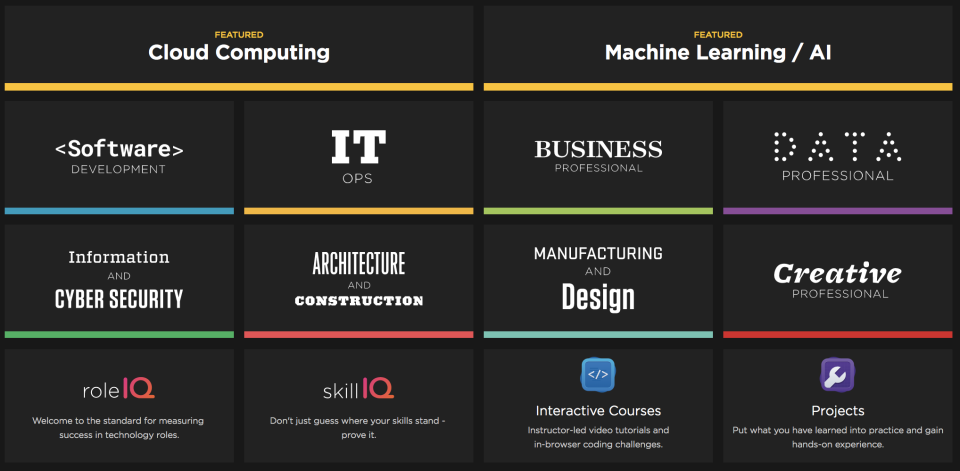 Software development
Web development
IT operations
Data Analysis / Science
Information and cybersecurity
Software Architecture
Machine learning
Artificial intelligence,
Cloud computing
Production
Creative topics (e.g. 3D animation, game development, VFX)
Business skills (e.g. podcasting, management, communication)
Pluralsight Prices
Pluralsight services are based on a subscription model. There are monthly or annual subscriptions for personal training: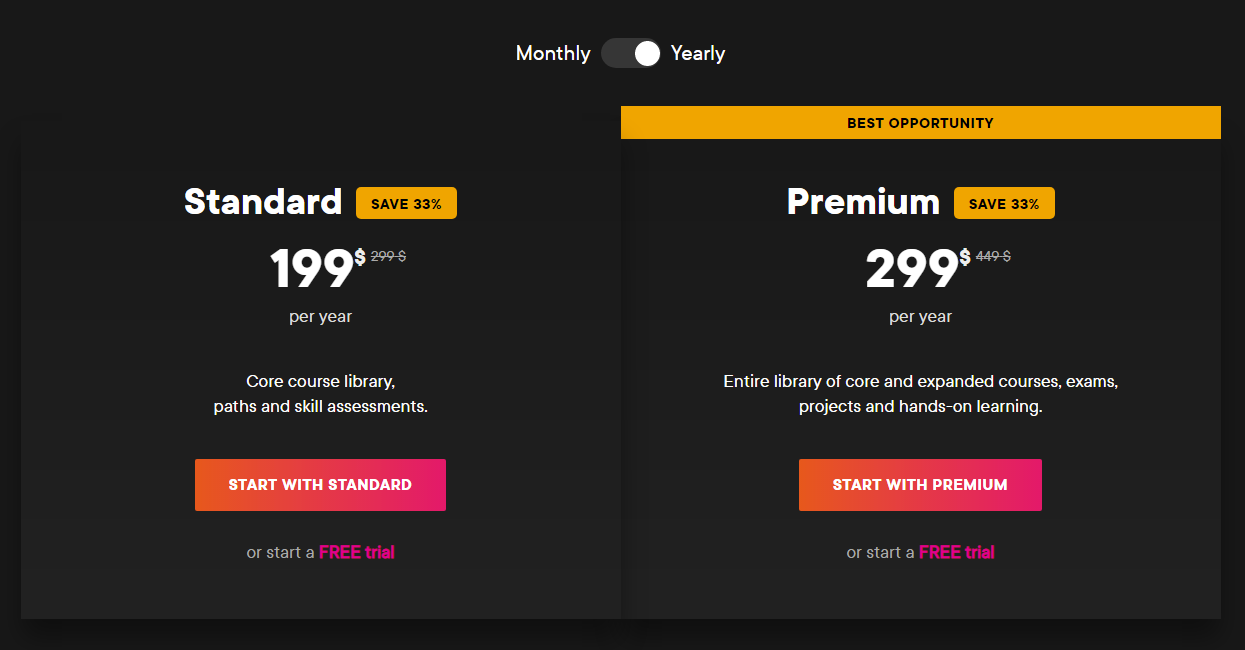 There are Professional and Enterprise tariff plans for companies. Taking these courses can help improve the technical knowledge and skills of the teams in the company.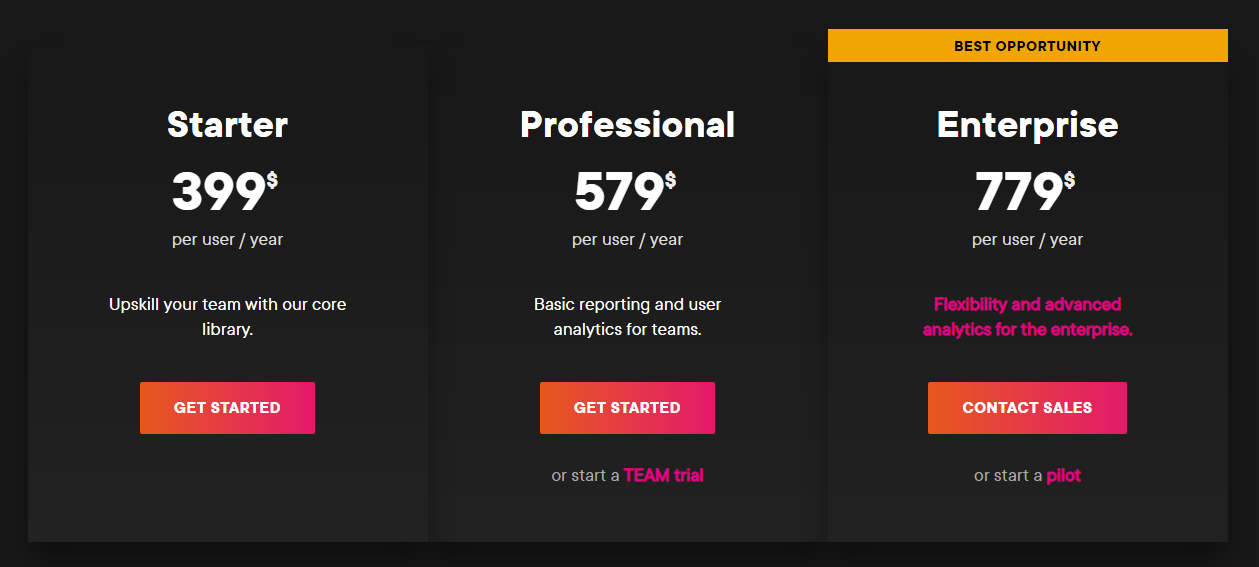 Features of the Pluralsight platform
📱 Cross-platform support: Excellent user interface. You can access courses and download them for completion both online and offline, on a Windows and macOS device, as well as on iOS, Android or Apple TV.
💬 Course discussion for each course, so that you can communicate with other students, ask and answer questions and find communities.
📝 Practical Exams: to help you prepare for professional certification (Premium, Professional, Enterprise)
👨 💻 Practical programming tasks, projects and managed feedback (Premium, Professional, Enterprise only)
🏆 Certificates of Completion: After completing the Pluralsight course, you may have the skills necessary to move to programs that will certify you with IT certificates and credentials, such as ITIL, ISACA, PMI and CompTIA.
❓ Short Quizzes and Tests: You can track your progress with quizzes and scores
💻 Visual Studio Code Extension (VS Code): when you are working on a coding problem, there is a chance that you will run into an obstacle and will not know what to do. With this extension, you can find content recommendations for a specific code (video clips, paths, courses, and manuals) without having to search for the answer in Google.
💼 Ро Role IQ: With this feature, you choose a role name, perform appropriate skill assessments, and Pluralsight will tell you how good you are in your role and recommend training opportunities to fill in any skill gaps. AKA a test for strengths and weaknesses.
🙌 Free 10-day personal trial version so that you can make sure that the platform is suitable for you.
Ease of using Pluralsight
User-friendly interface of the platform. Key navigation functions:
On the home page, there is a "Courses " tab in the menu header, with which you can view courses. In the drop-down menu, you can select the topics and areas you need (for example, software development, IT services, data processing specialists) and view all the training paths, courses and assessments of Pluralsight.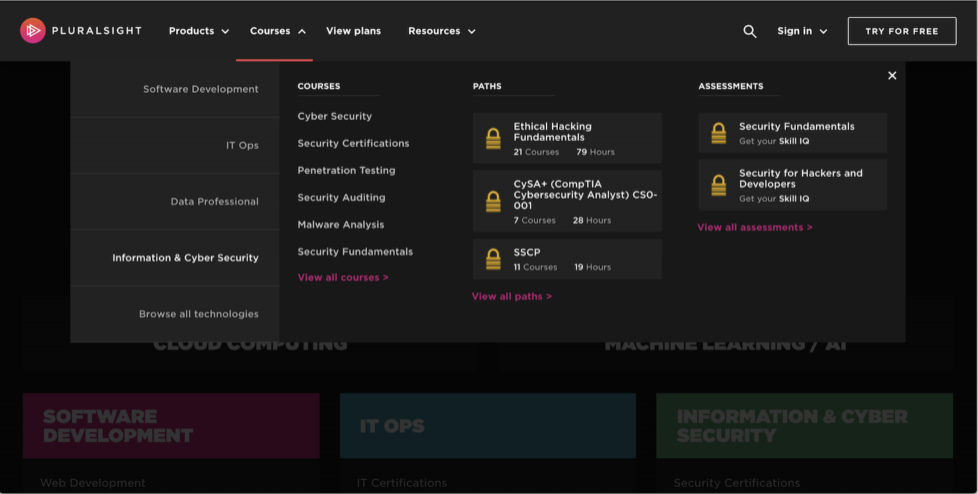 There is a search menu where you can search by keywords in the search bar to find the courses and topics you need. A convenient filter that allows you to filter by courses, resources, authors, skill level. In the course preview, you can see a small description of the course, the main theses, information about the author and what you will encounter during the training.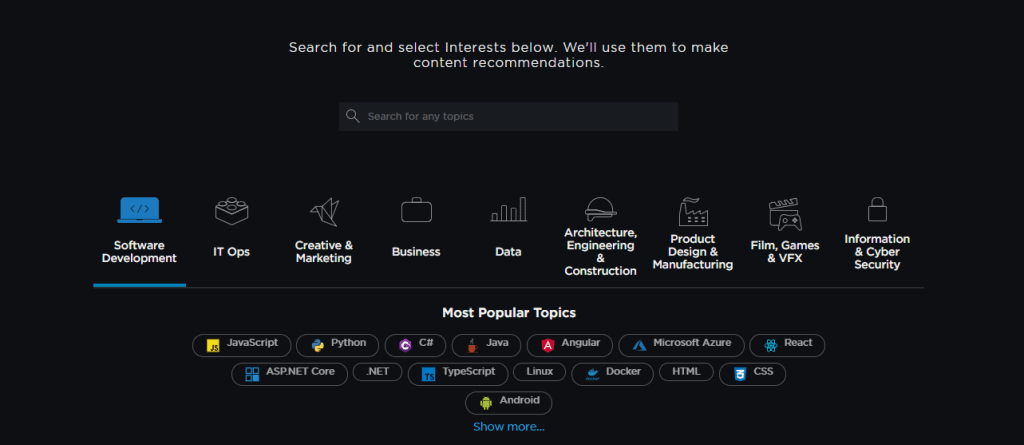 The interface of the course itself is a bit like the interface for viewing structured playlists in Youtube. Therefore, everything is intuitively clear.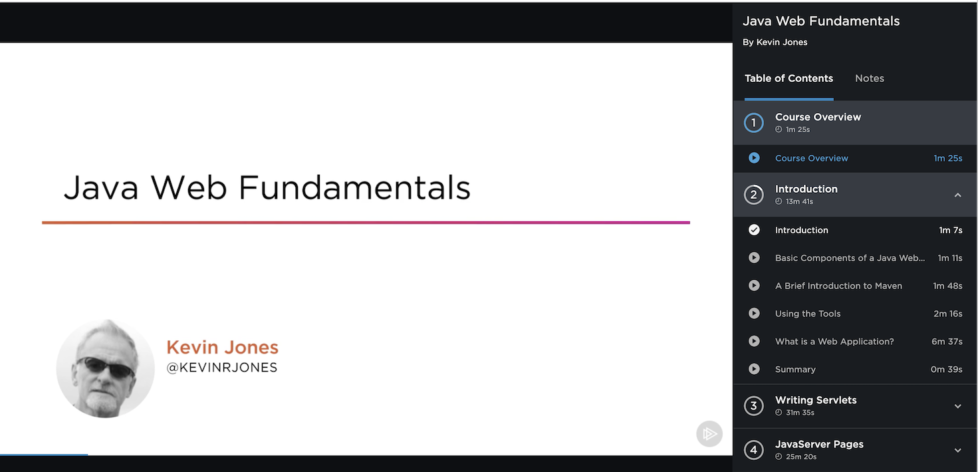 There is a skill profile that allows you to track your progress during training.
Pluralsight Content Quality
On average, Pluralsight publishes only three out of the 1,000 content offers they receive. Strict selection criteria for courses allow subscribers of the platform to receive educational content that meets high quality standards. The courses are created on their own, so the output is a high-quality product with excellent videos, good sound and educational material.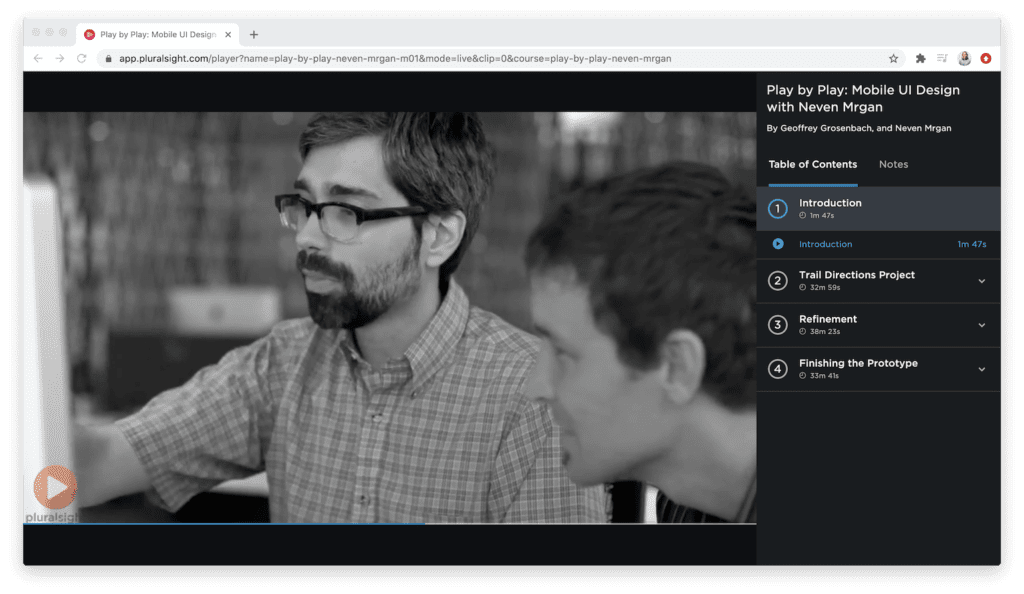 Examples of popular Pluralsight courses and directions
After researching which courses and paths are currently most popular among Pluralsight users, I have identified the best courses and paths based on each technology: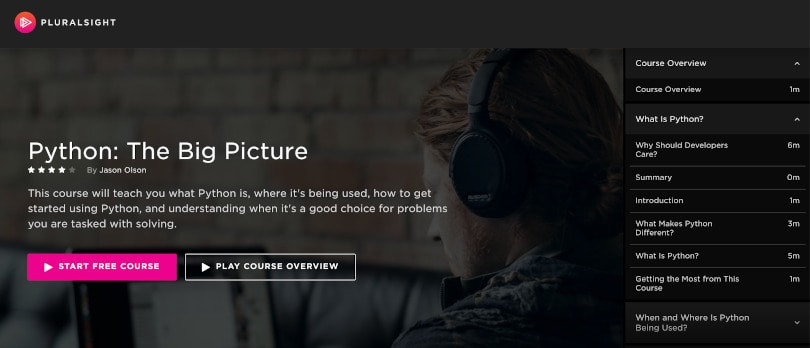 The main goal of this course is to provide students with a complete holistic overview of the Python world. Before diving into the actual syntax and code, students will learn what this language entails and all its characteristic features. It also discusses its main industrial applications, which are important to know if you are not sure about your career.
JavaScript: getting started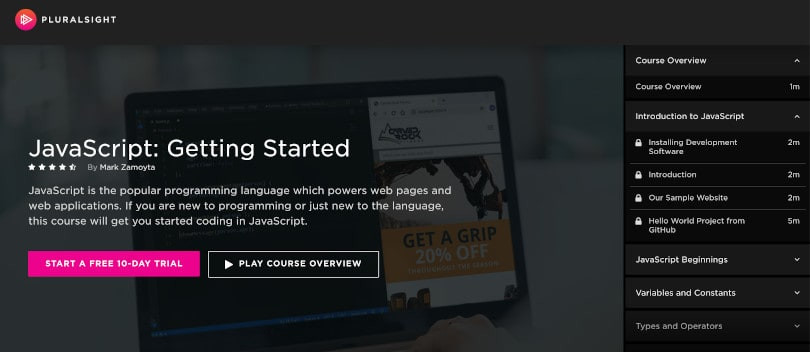 This entry-level course does not require any prior knowledge of programming. Compared to the Python course mentioned above, this course is more practical. It immediately introduces you to the language and coding. You will get acquainted with real JS applications and learn the basics of coding: operators, functions, code flow, etc.
Ethical Hacking: Understanding Ethical Hacking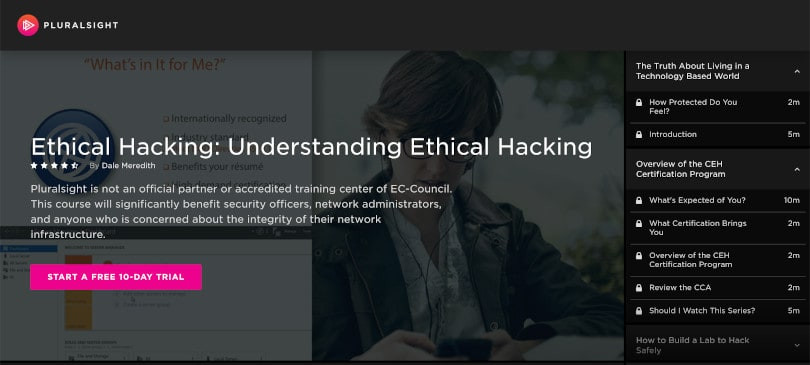 This course for beginners consists of 7+ hours of material. Its main goal is to teach you to think like a professional ethical hacker, welcoming you into its complex field. This is done through a comprehensive review of all aspects of ethical hacking; its main concepts, categories, tools and controls.
HTML, CSS and JavaScript: the big picture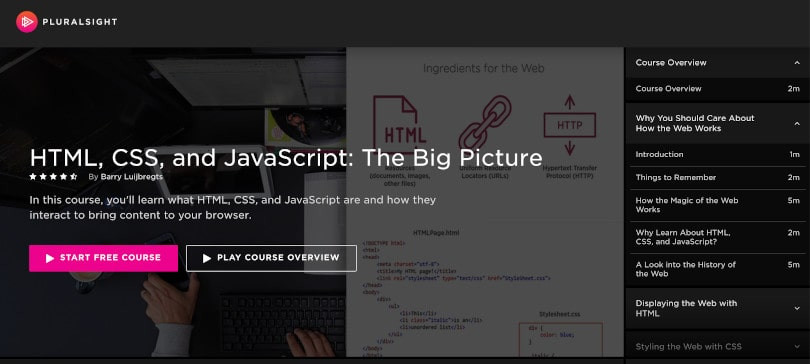 The instructor of this Pluralsight course aims to teach students how these three components are used together to develop a coherent online application. This course starts with a general introduction to web development and its importance, and then gradually focuses on HTML, CSS and JavaScript in turn.
Understanding Machine Learning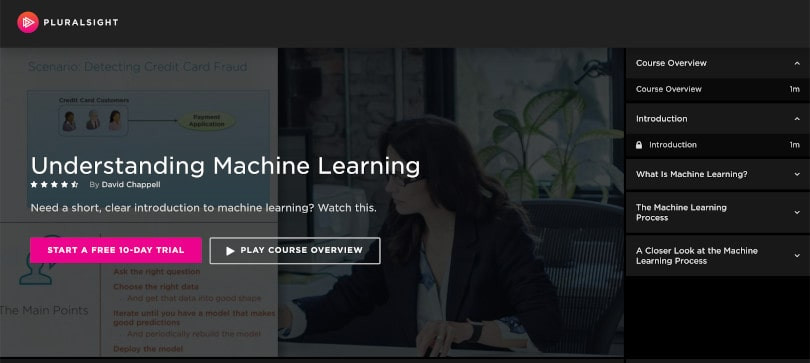 A simple machine learning model will be demonstrated. You will learn how it is trained using real data and information from developers. The R programming language is also part of the course content, which is a popular platform for writing machine learning algorithms.
Conclusion
Summing up our review of Pluralsight, we can say that it is, without a doubt, one of the best available online learning platform , which allows you to develop and improve technical skills. The latest technologies and artificial intelligence are used to assess the level of skills, so that it allows you to objectively assess your level of knowledge. The prices are reasonable, although they are at a higher level compared to other competitors. If you still have any doubts, you can first try to activate a free trial subscription for 10 days to study all the pros and cons in more detail.