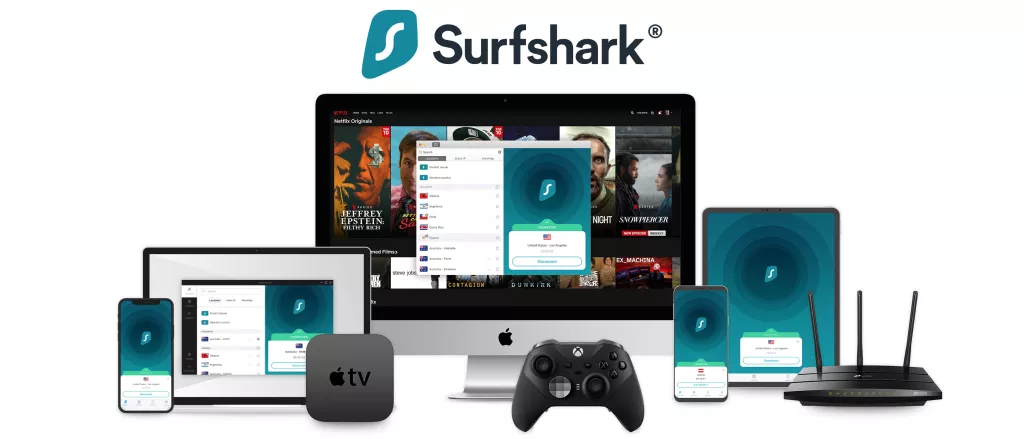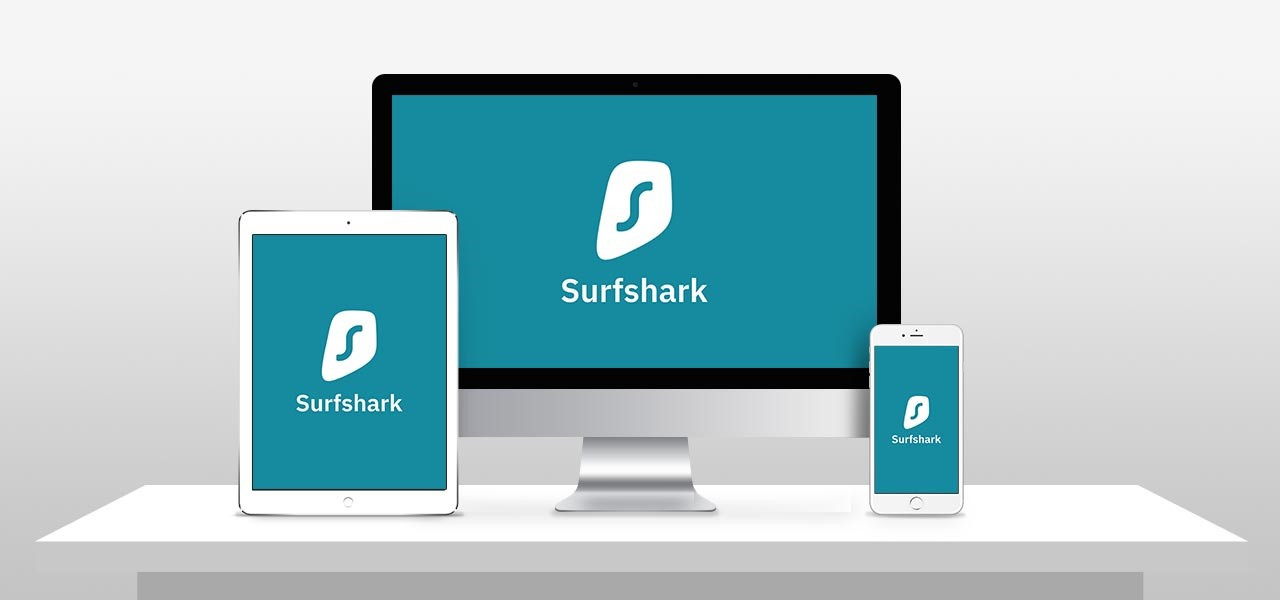 Surfshark VPN is a VPN company founded in 2018, located in the British Virgin Islands. Surfshark specializes in providing virtual private network services that focus on privacy, data encryption, and providing other anonymity and security features on the network. Supported on devices with Windows OS, Mac OS. On mobile devices, it is supported on iOS and Android, and is also available for Xbox and PlayStation game consoles. On Smart TV is available for: Apple TV, Free TV, and other popular operating systems. As an extension, you can install it on Google Chrome and Firefox browsers.
Advantages
Does not save logs, no logs policy
Internet banking-level security (Automatic Wi-Fi Protection, VPN Kill Switch Emergency Switch)
Private DNS and Leak Protection
You can access Netflix, Apple TV, etc.
Separate applications for different operating systems
Number of servers (3200+)
The ability to pay with cryptocurrency
Unlimited number of devices to connect
Money back guarantee (up to 30 days)
Unlimited bandwidth
24/7 round-the-clock technical support
Disadvantages
Is a newcomer to the market, some functions may be unstable
The lack of servers in China
Not all security features are available in some apps
Price
The price of the product is formed depending on the subscription period. The longer the subscription period, the cheaper the cost of the monthly plan will be. A one-time subscription for 1 month will cost $12.95 . For an additional fee, it is possible to protect your email from data leaks and confidential, efficient search without ads or logs on the Internet.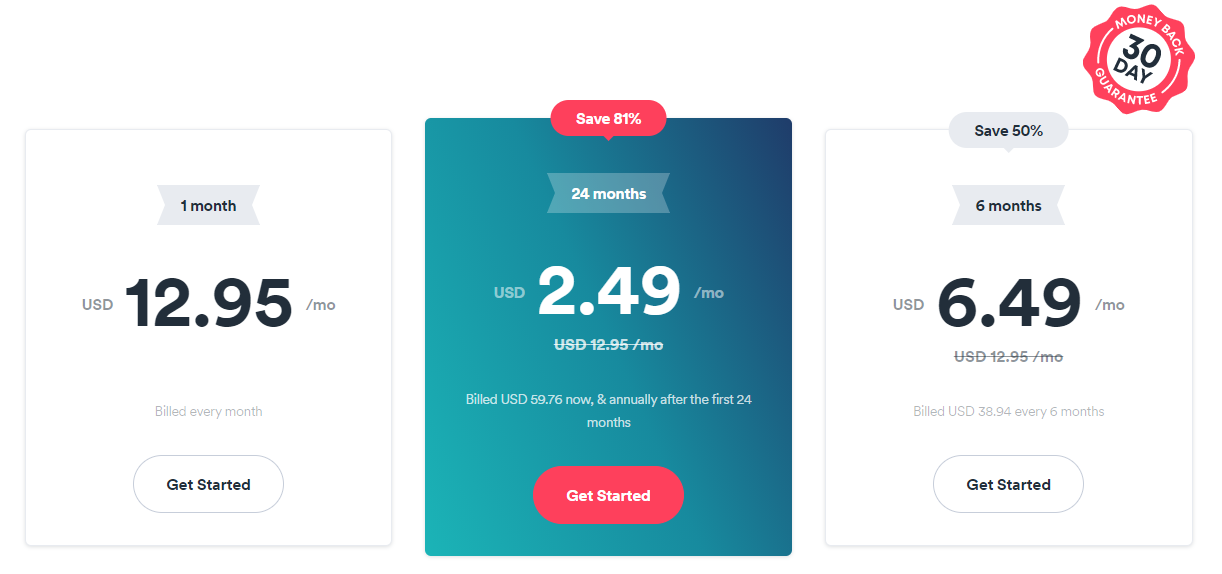 A proven VPN service without registration, which allows you to pay for the tariff plan with cryptocurrency, which allows you to guarantee your anonymity for 100%. Accepts PayPal, Google Play, Amazon Pay, Qiwi Wallet, and Bank Cards (Mastercard, Visa, American Express, Discover) , etc.
Protocols
SurfsharkVPN offers 4 different protocols: IKEv2, OpenVPN, Shadowsocks, and WireGuard. VPN Tunneling Protocols are a technology that helps VPNs securely send your data over the internet, which is essential if you want to browse websites, use social networks, or do anything else online. Unlike older tunneling protocols, VPN protocols are more reliable. They provide data authentication and offer end-to-end encryption. Each application supports different protocols: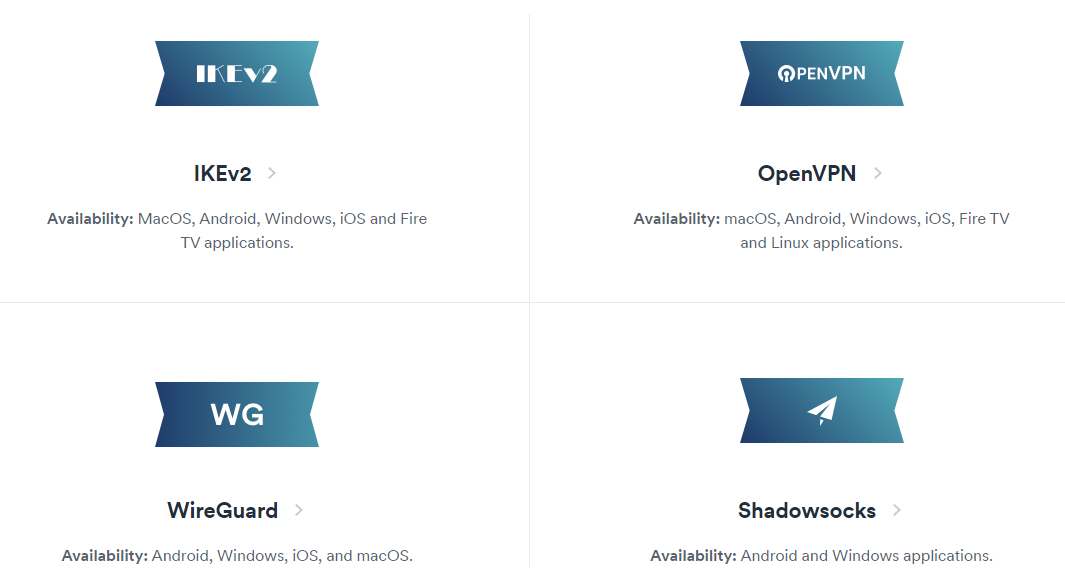 Server location
Surfshark covers many geographical points of the world. Server clusters are located in Europe, North America and South America, the Middle East and Africa, and the Asia-Pacific region. It covers more than 65 countries of the world. The service has a network of 3,200+ high-speed servers around the world, which is an order of magnitude more than VyprVPN (700 + servers) and PrivateVPN (150+ servers). Most Surfshark servers are located in the United States, a popular country for viewing blocked streaming services such as Netflix or Hulu, which allows you to provide excellent access to these services.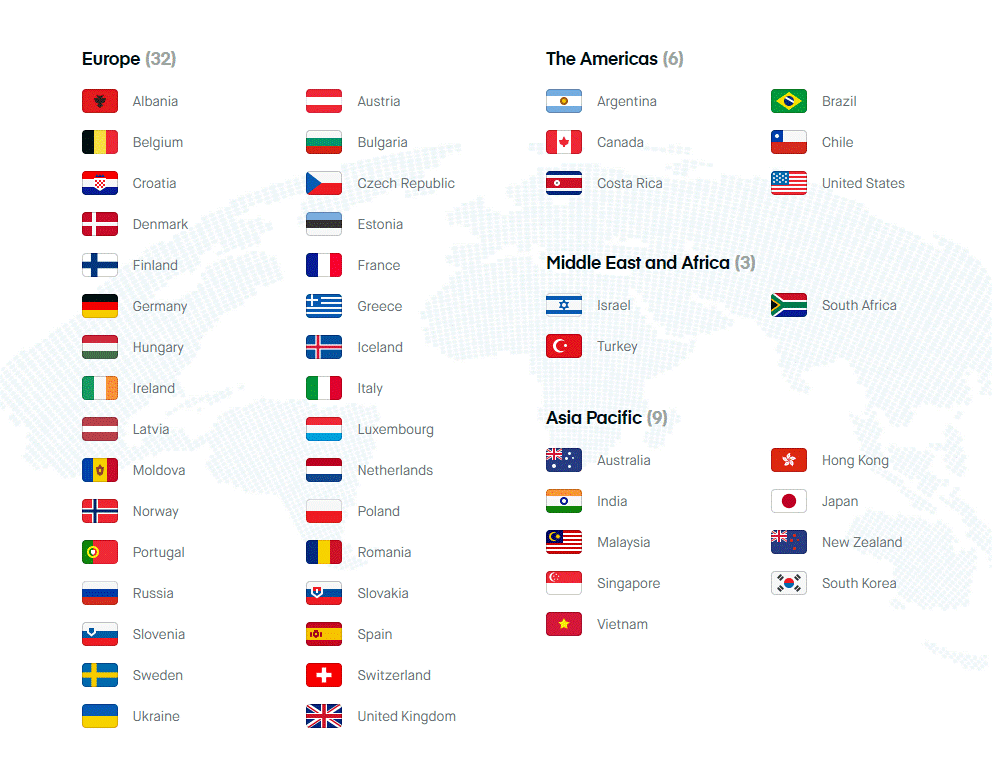 Security and Privacy
The company is headquartered in the British Virgin Islands, which has no mandatory data collection laws, and is outside the jurisdiction of the "5/9/14 Eye Alliance". This alliance is an intelligence network of countries that include the United States, Great Britain, Canada, Australia, New Zealand, France, Germany and other states. Therefore, this location allows the company not to keep logs of user actions.
The only information that Surfshark stores about you is the email address you provided when registering on the service. They can also store payment information. But when you top up your balance using cryptocurrency, you can hide your payment information. Also, thanks to all modern encryption protocols ( OpenVPN UDP and TCP, WireGuard, IKEv2 ), you can be sure that your data will always remain confidential, no matter how strong the potential attacks are.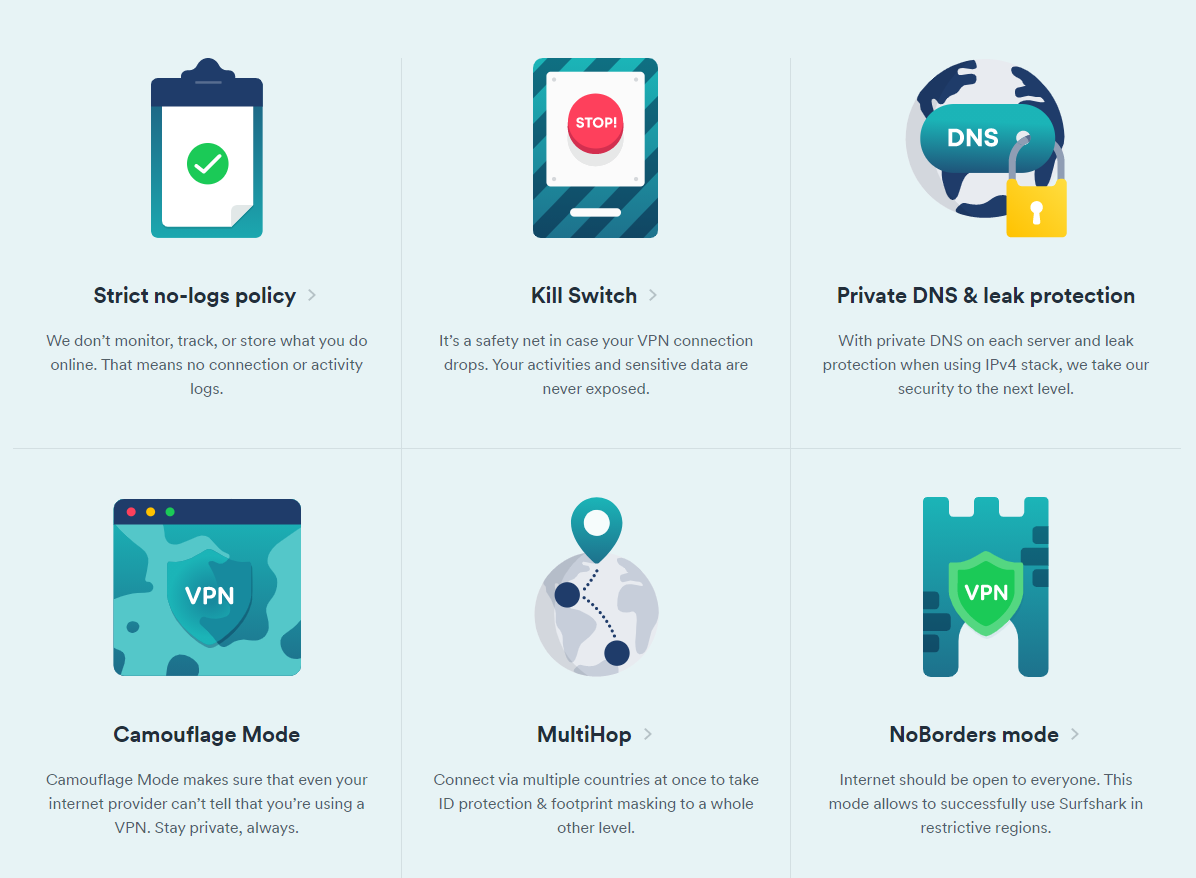 The company has its own private DNS on each server, which reduces the likelihood of tracking your activities. It is possible to perform a double VPN transition (for example, connect in Los Angeles and leave the network in Berlin) , which makes it even better to hide the traces of your actions on the network.
Compatibility
There are native applications for Windows, macOS, Linux, iOS, Android, as well as extensions for Chrome and Firefox browsers. Separate applications have been created for Smart TV: FireTV, AppleTV, etc. Separately, I would like to note that there are applications created for consoles: Xbox and Playstation.

Netflix. Access to live streaming
The company confidently claims that it can unlock American, British, Japanese and other Netflix regions. This is not surprising, since there are more than 15 Netflix libraries in the SurfShark database that a VPN can unblock.The presence of a large number of servers in countries where there is Netflix, allows you to better bypass blocking and ensure high data transfer speeds.

In addition to Netflix, it allows you to get free access to other streaming platforms and services: BBC iPlayer, Disney +, Amazon Prime, etc. When you connect to a VPN server, the VPN replaces the IP address of your device with the IP address of the VPN server. Therefore, streaming platforms think that you are really connecting from where the server is located. However, from time to time, such a trick can be calculated and block the IP addresses belonging to the VPN server. But the presence of a large number of servers allows you to set up a connection from another VPN server and not interrupt the viewing of your favorite movie, TV series or TV show.
Emergency VPN Connection Termination (Killswitch)
Kill Switch is a feature that automatically blocks your internet connection when Surf Shark is disconnected, protects your personal data and location from unintended exposure. This smart feature is available in the Surfshark app for Windows, macOS, iOS, and Android. When working with a large amount of sensitive data, there is a possibility of information leakage if you often use different public Wi-Fi connections. To protect against unintentional leaks, use the Kill Switch function.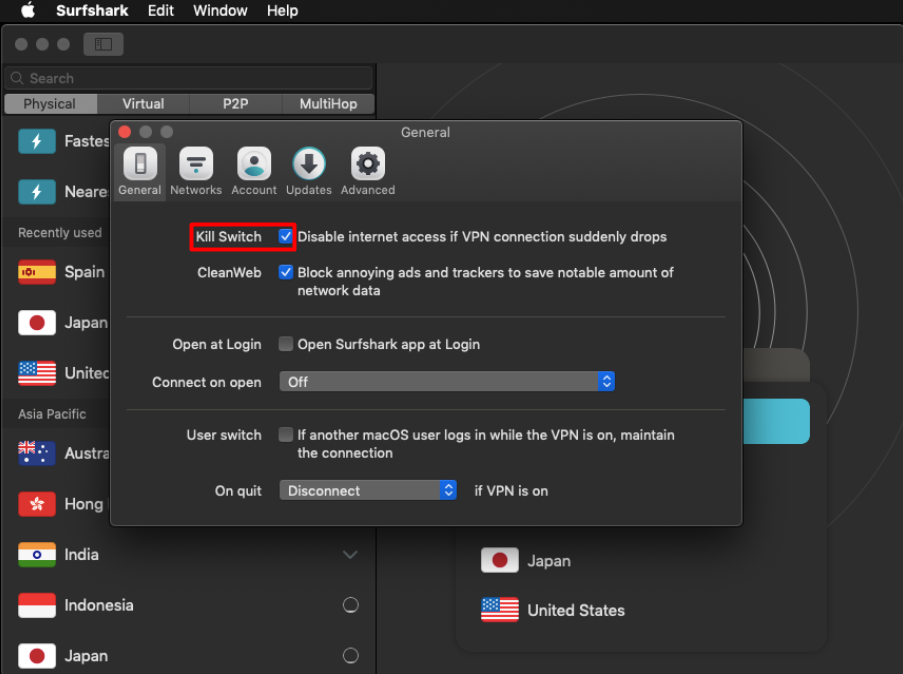 Conclusion
Despite being a newcomer to the VPN app industry, Surfshark has proven itself to be a fast, reliable, high-quality VPN. The flexibility of tariff plans and a large number of functions is really pleasing. The ability to pay for services with cryptocurrency gives it a huge advantage over its competitors. Perfect for people who love to travel, freelancers and those who want to remain invisible on the web. High-performance servers and high bandwidth guarantee you uninterrupted viewing of your favorite content. If you are not satisfied with the services provided, you can always return the money according to the 30-day refund guarantee.