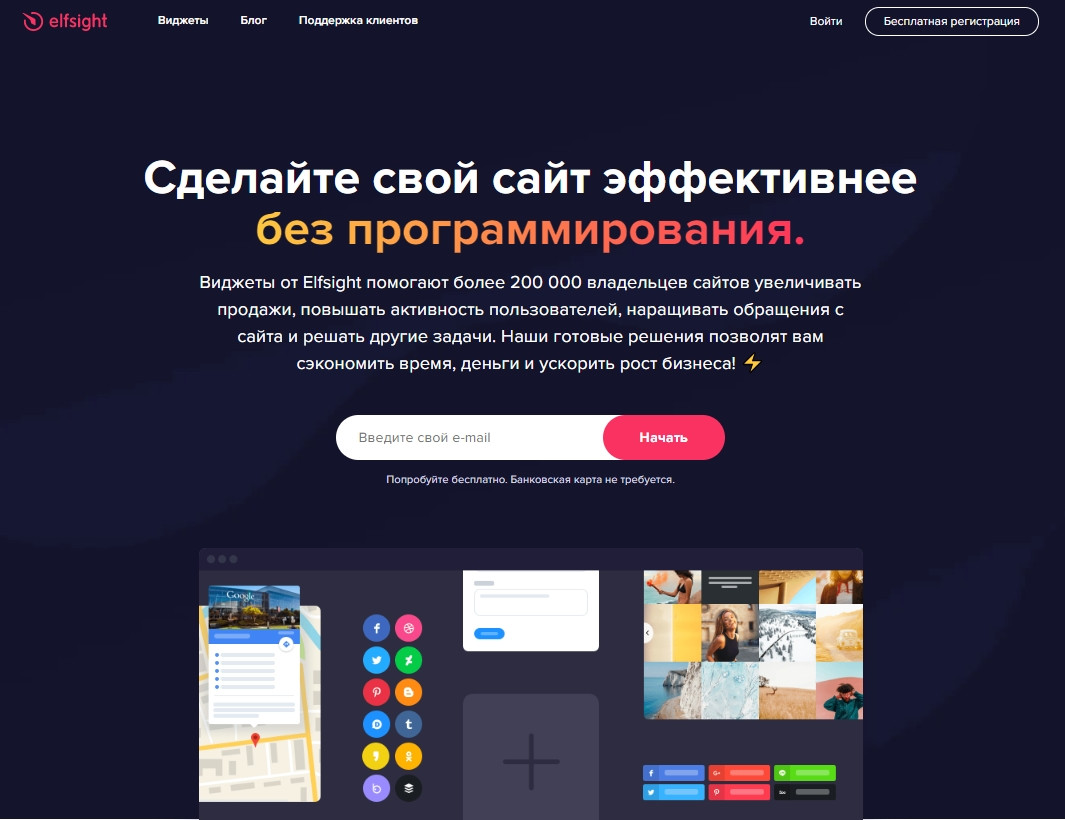 Elfsight Apps is a SaaS service that provides customizable and non-coding website widgets with extensive integration capabilities. Elfsight widgets can be integrated into any websites made on platforms: WordPress, Shopify, Weebly, Wix, Squarespace, Joomla, Drupal, BigCommerce, OpenCart, Adobe Muse, Webflow, HTML, Magento, Blogger, ModX, Webnode, Lightspeed, BigCartel and others. It is also possible to easily embed the widget code into any HTML code if your site is self-written.
It will be possible to select the desired widget for any sections of your site.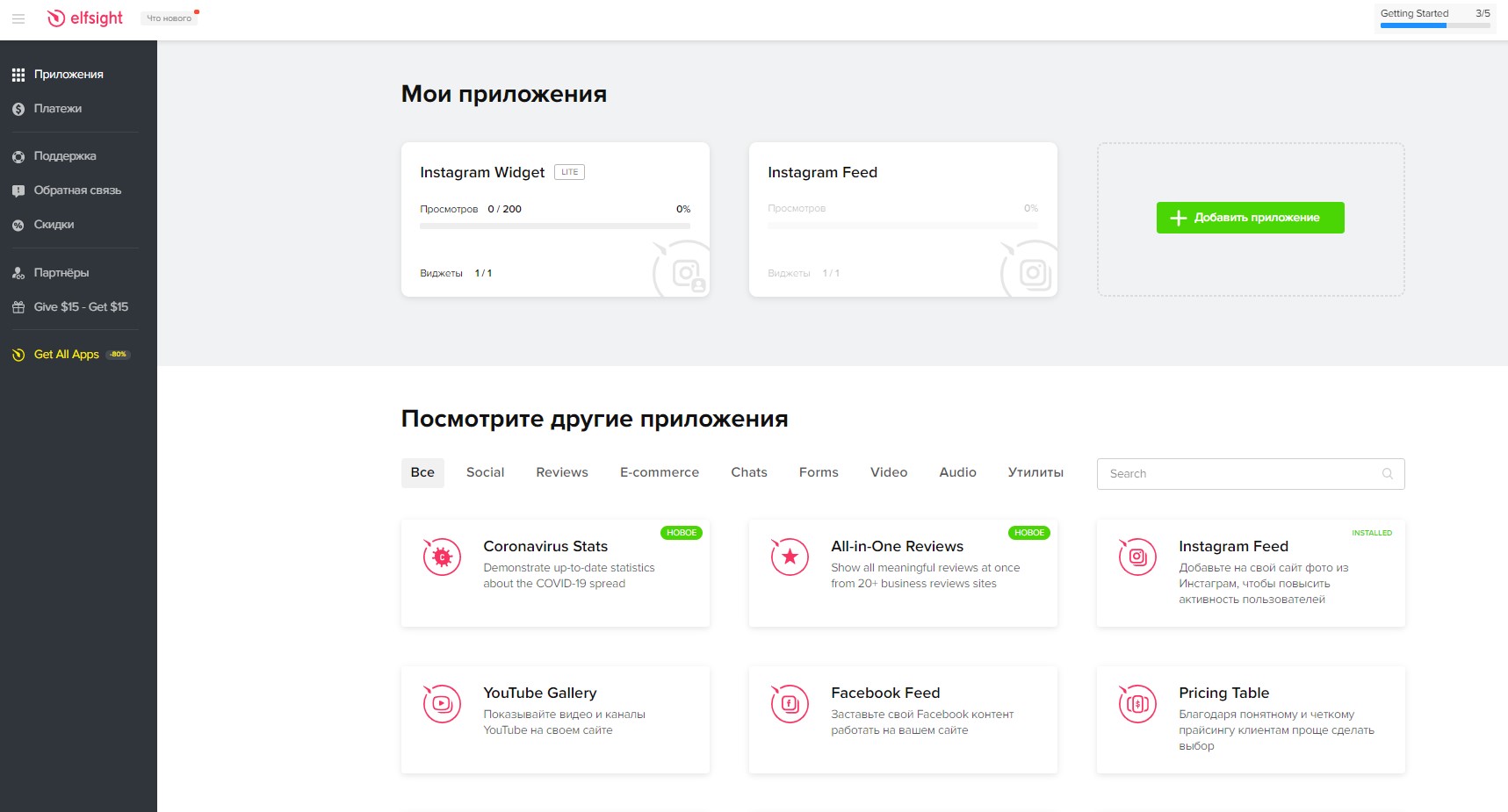 Widget Categories:
Social
Feedback block
E-commerce
Messengers. Feedback.
Form Builder
Video
Audio
Utilities
Instagram Feed
Facebook Feed
Twitter Feed
Social Media Icons
Social Share Buttons
Pinterest Feed
Instagram Widget
Instagram Feed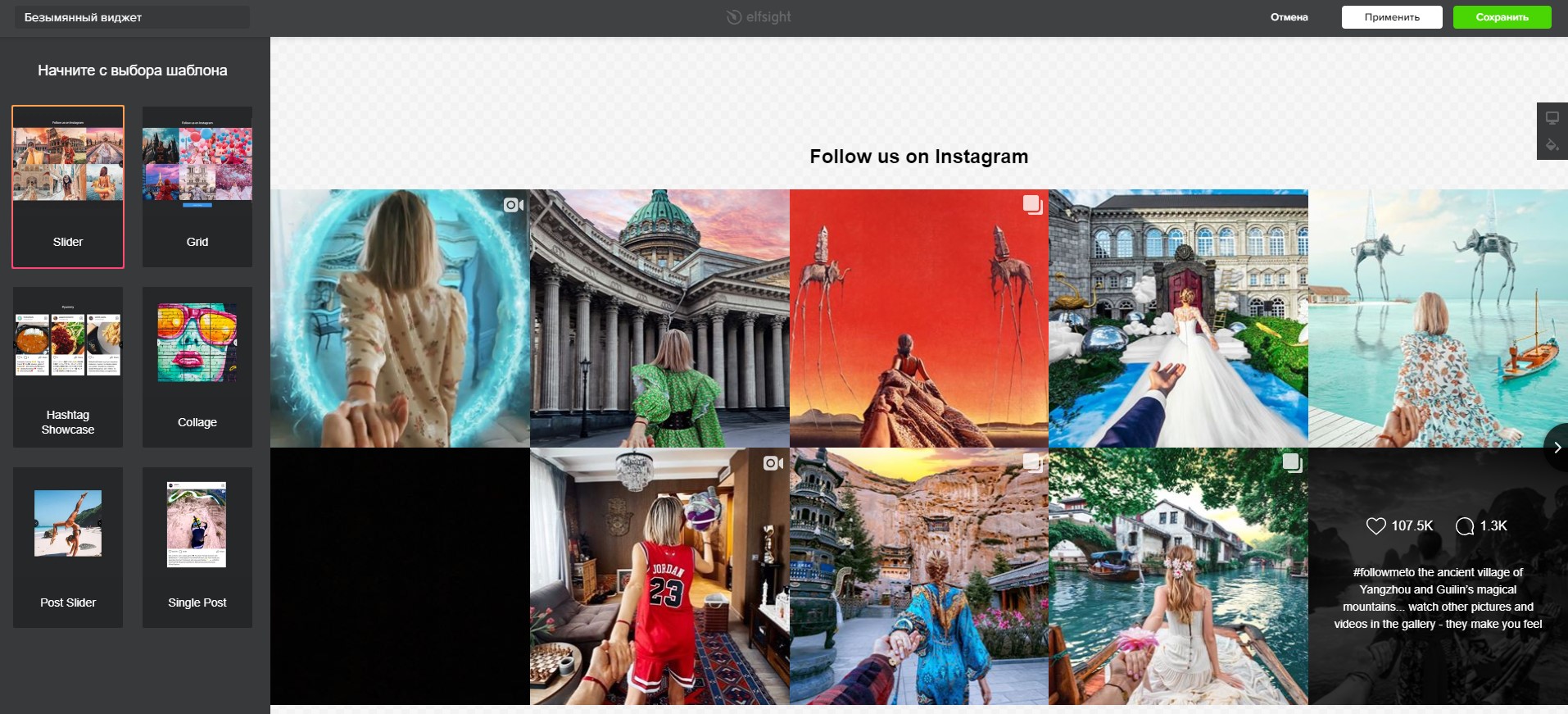 With this widget, you can place an Instagram page on your site. You can display the latest posts from your Instagram account, which will be dynamically updated on the site in the future. There are several options for displaying the page. You can add an Instagram widget to the site for every taste.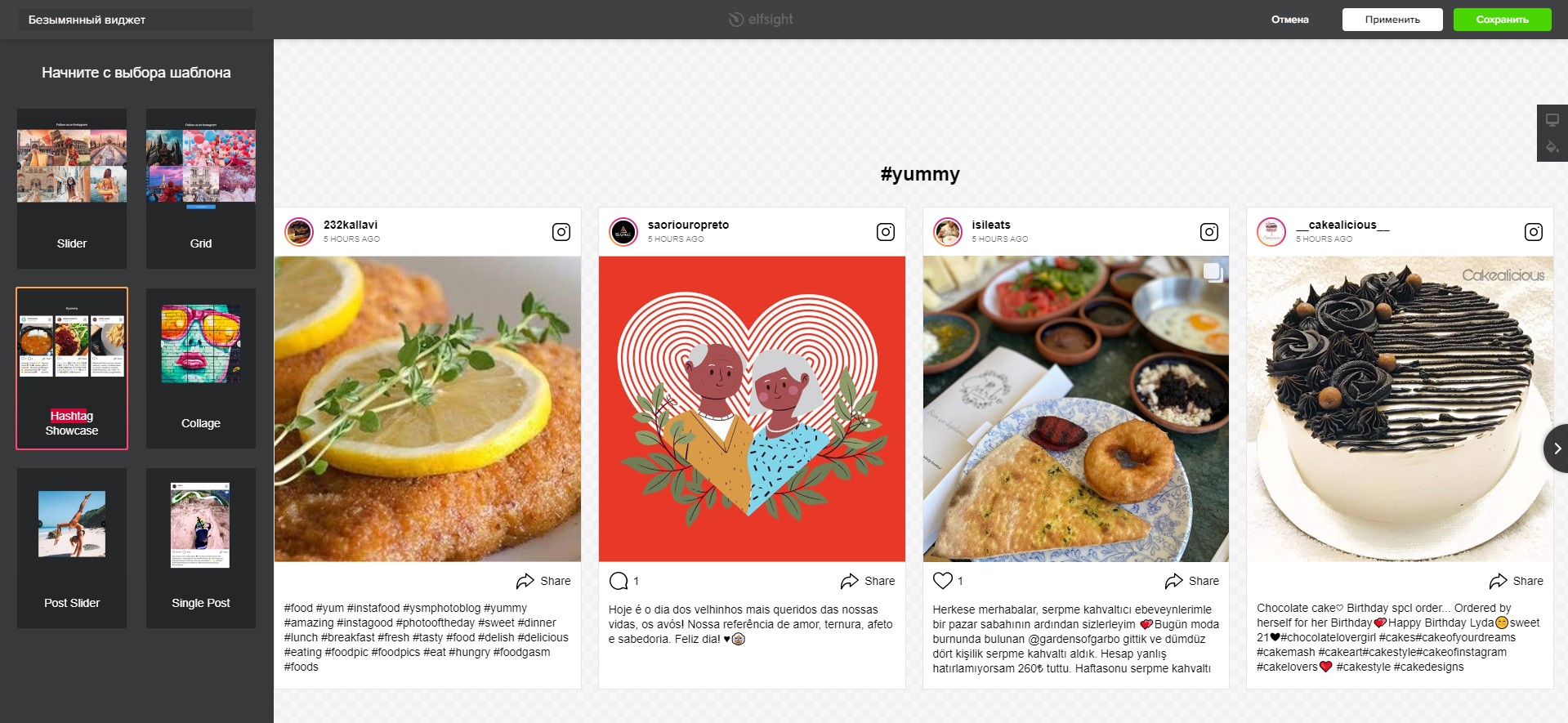 All widgets are adapted and look neat on mobile devices: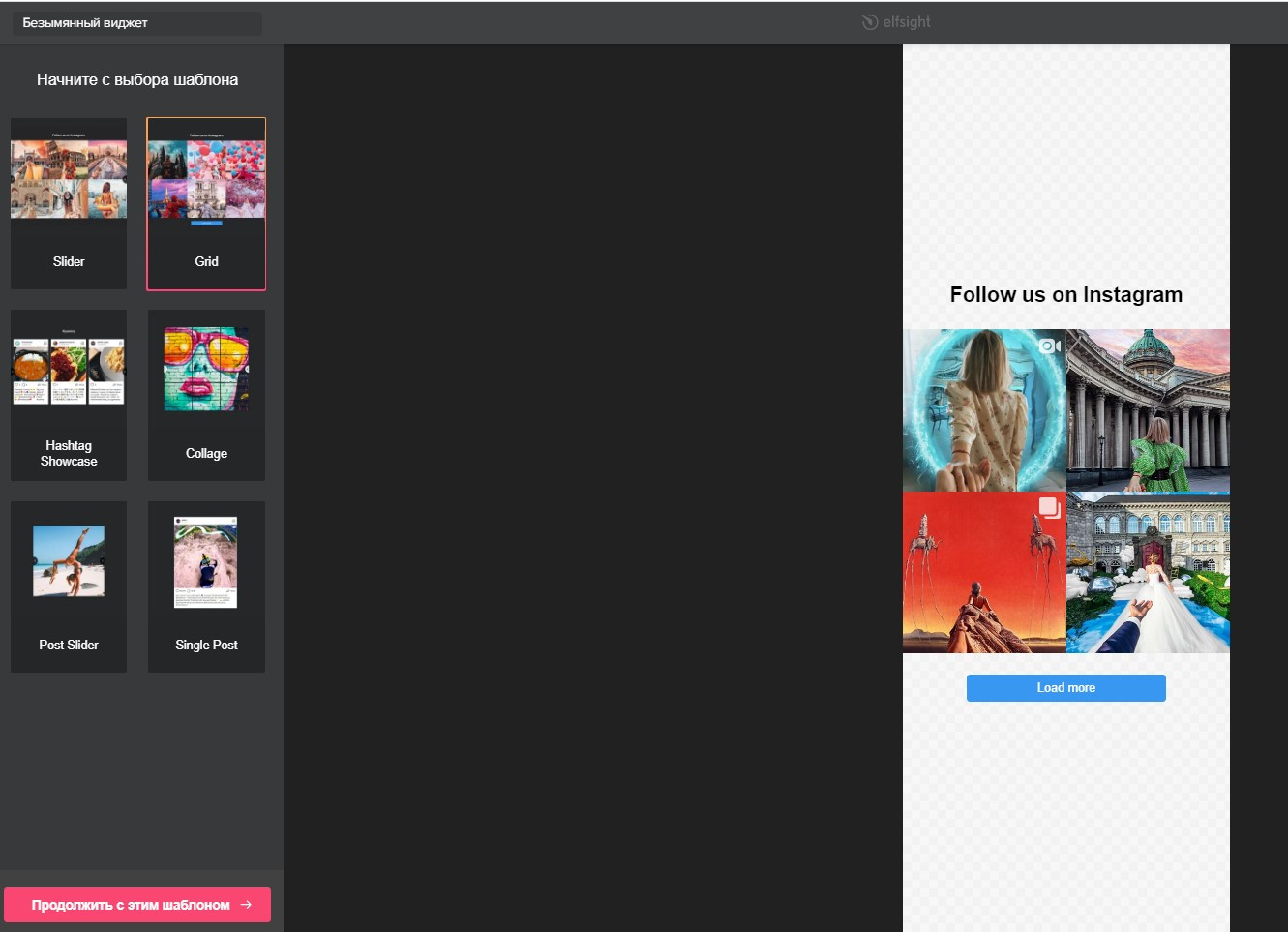 Facebook Feed
The Facebook widget also has similar settings when added. For example, you can add a feed of your posts: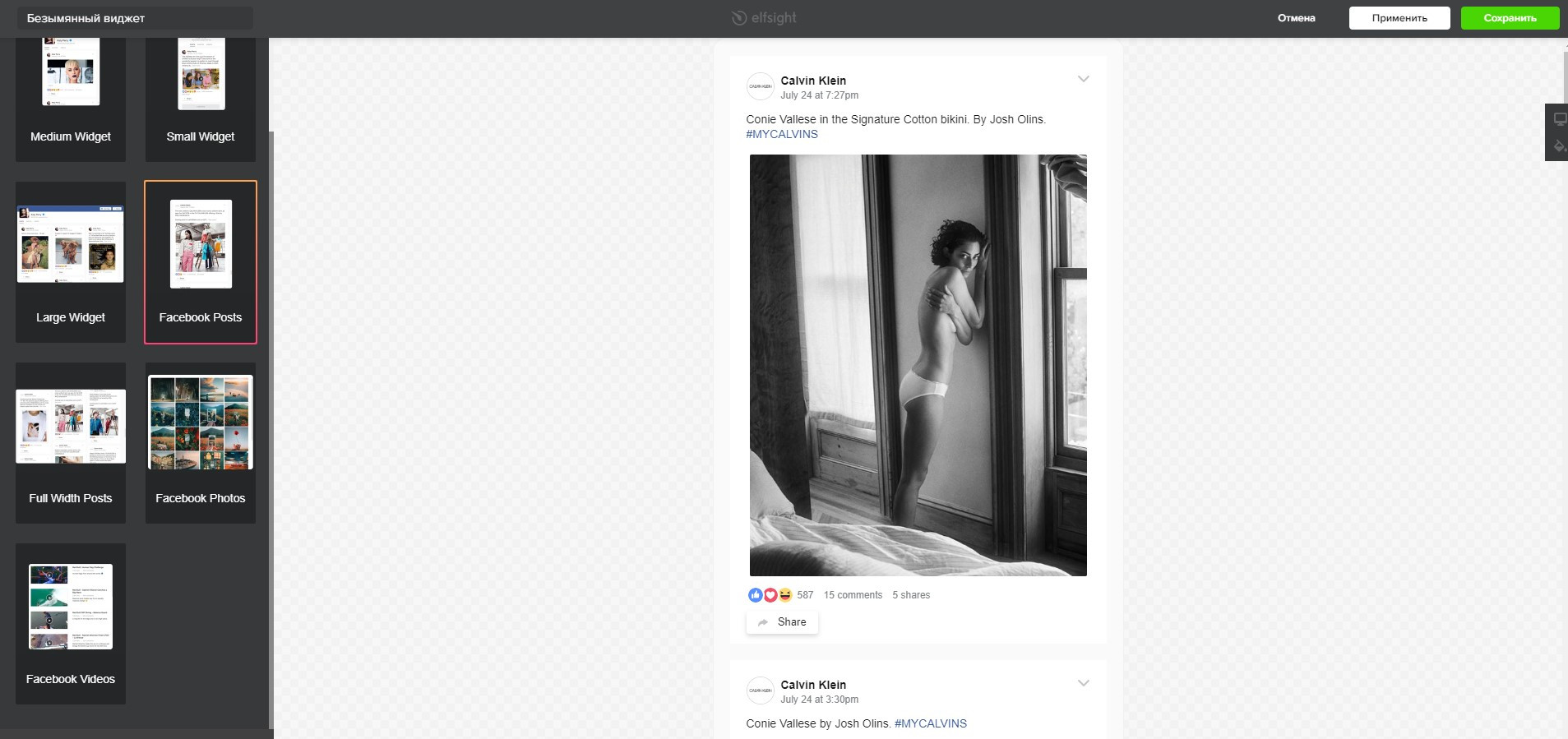 Twitter Feed
For Twitter, it is possible to add a widget with a block " What they write about us " :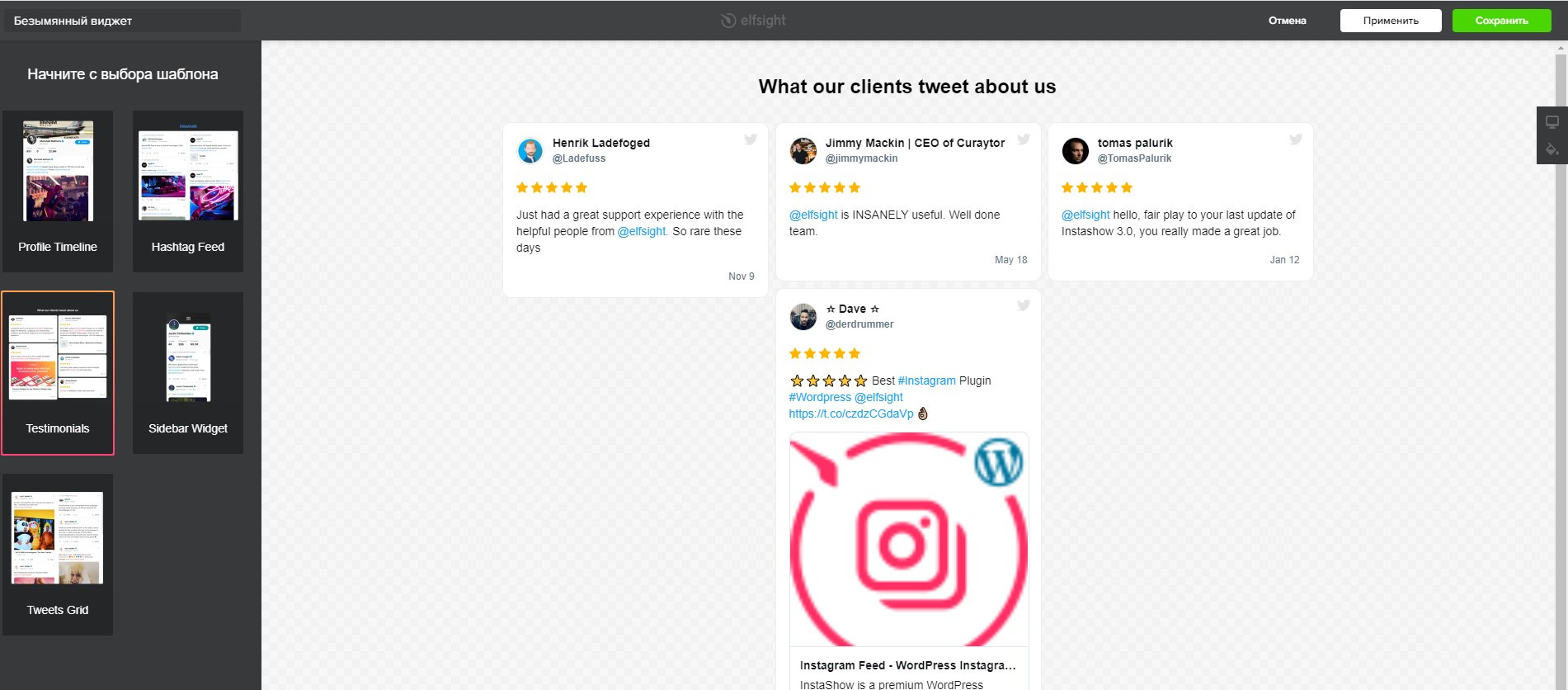 Social Media Icons
Social media buttons for the site are more relevant than ever now. You can choose any buttons that will be combined with the design of your site.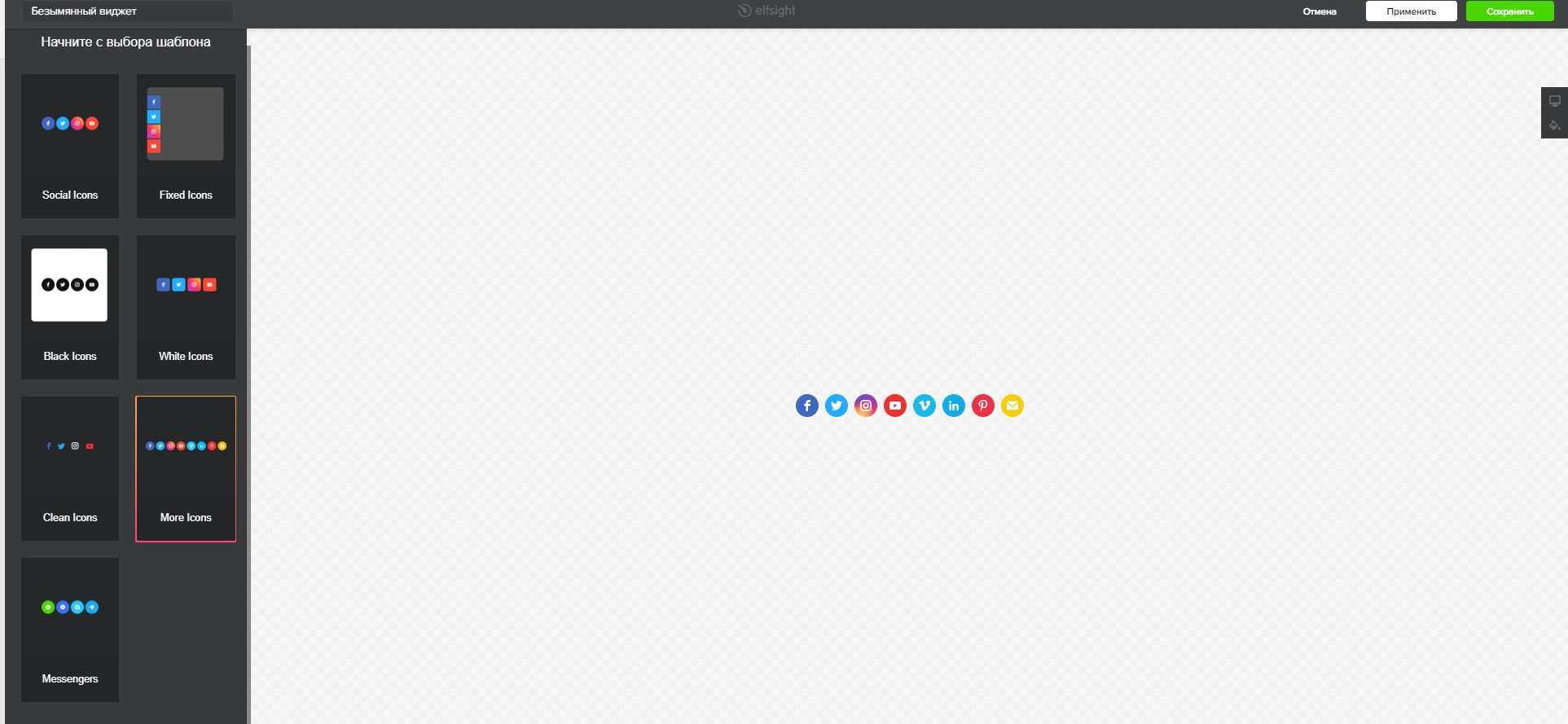 Social Share Buttons
Share buttons in social networks are also an indispensable attribute for modern websites.
Pinterest Feed
For Pinterest, you can also pick up a great widget for the site.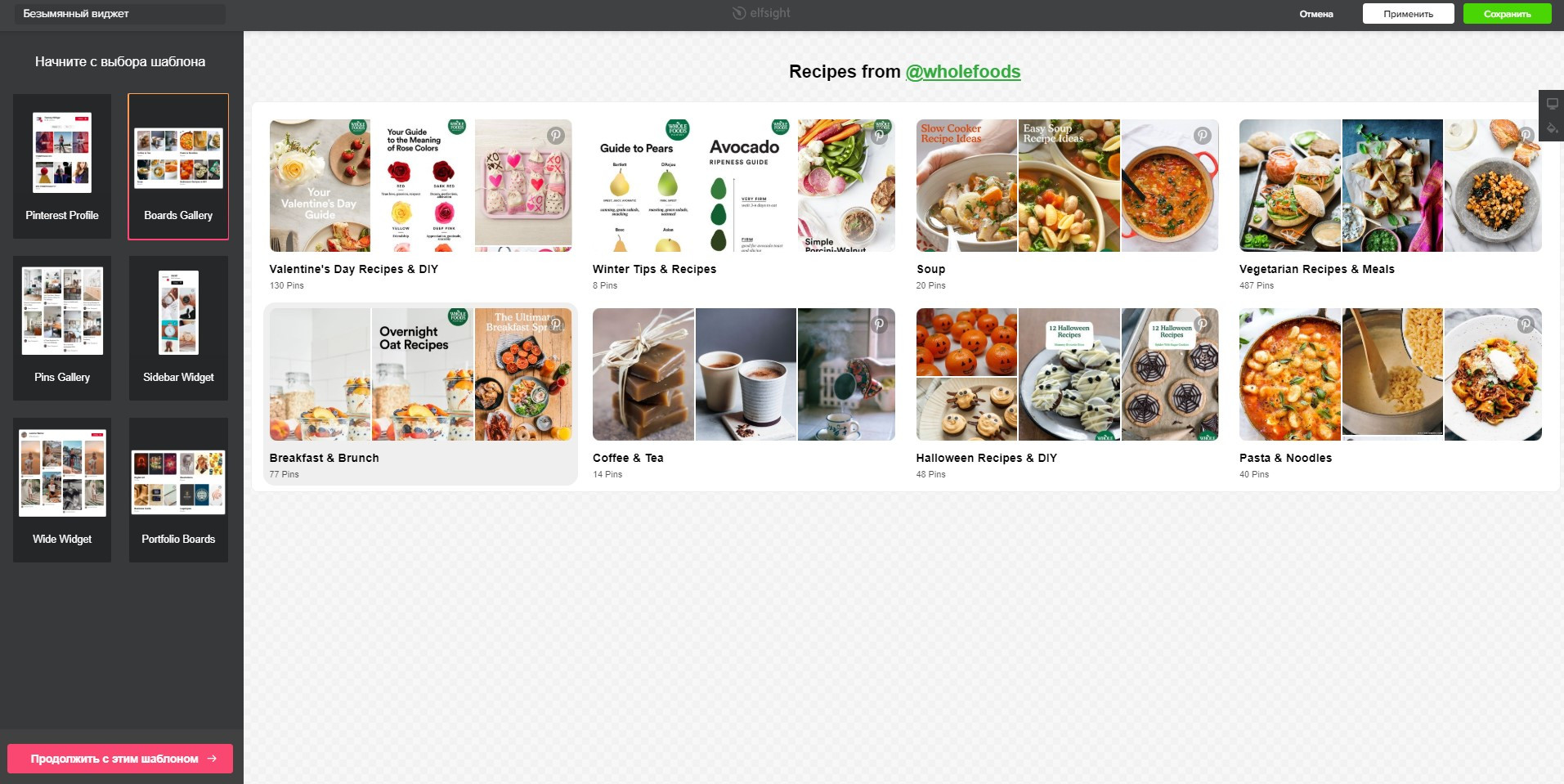 Instagram Widget
Includes the ability to add a hashtag widget, a profile widget, and a photo gallery widget.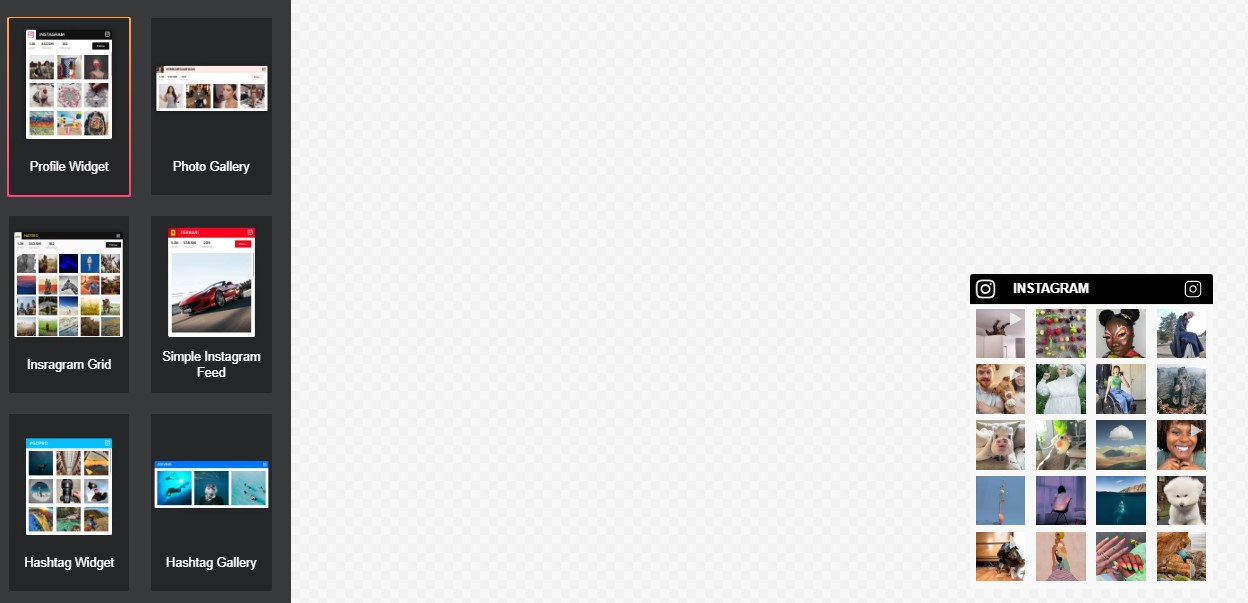 Block of reviews
Trust in your site or brand can be increased by placing a block of reviews on your site. You can get reviews from Facebook or from other trading platforms and resources that can increase the loyalty of visitors if your site is an online store. Also, such a widget is suitable for sites that relate to the provision of services. The added widget can pull up reviews from different resources:
The output can be output not only in the form of a large block, but also in the form of a carousel. It is also possible to add from each resource separately.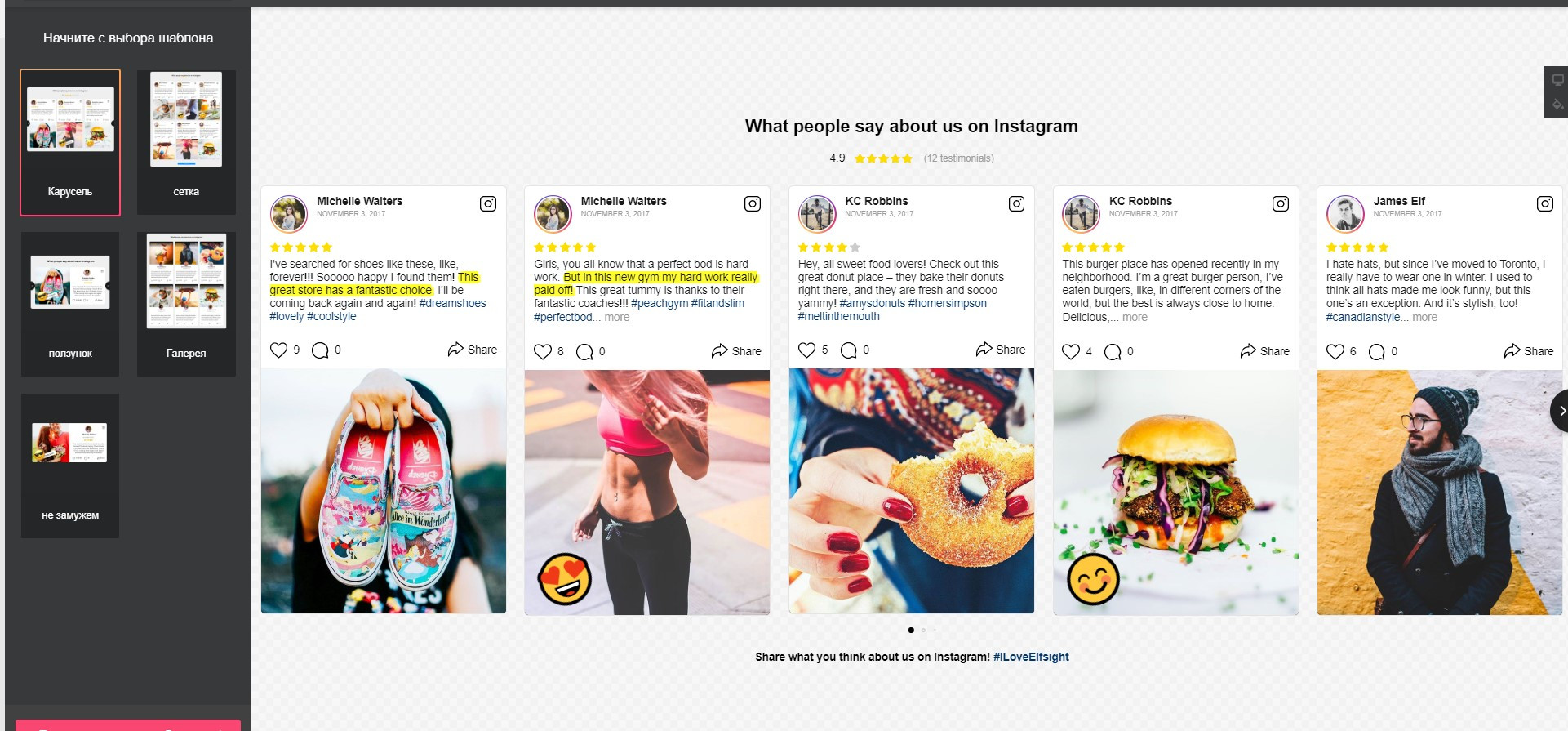 Supported platforms:
Facebook Reviews
Instagram reviews
Reviews from TripAdvisor
Google Reviews
Amazon Reviews
Reviews on eBay
Google Play reviews
Reviews from Booking
Airbnb
Reviews of Hotels Hotels
OpenTable restaurant reviews
Houzz reviews
G2 Cword Reviews
Apple App Store Reviews
Trustpilot Reviews
Yelp Reviews
Reviews from AliExpress
BBB reviews
E-commerce
Price table
Countdown timer
Different pop-up windows
Feedback Widget
The price table widget allows you to add a clear and understandable pricing widget to make it easier for customers to navigate your site.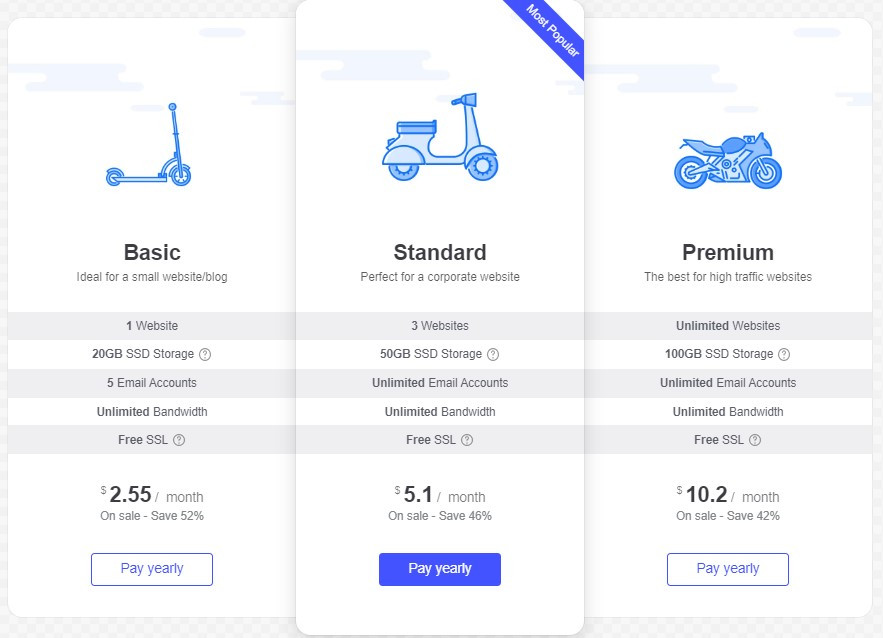 To stimulate purchases on the site, you can add a countdown timer: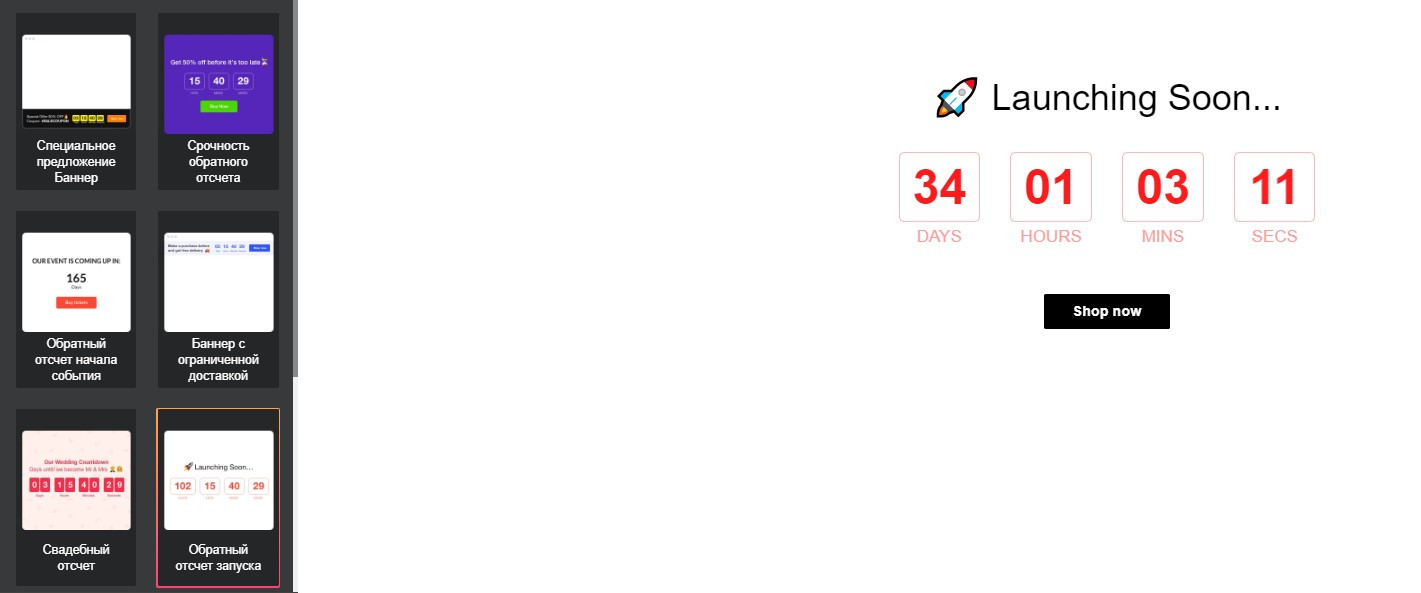 It is possible to create beautiful pop-ups, as well as the ability to add a newsletter subscription widget.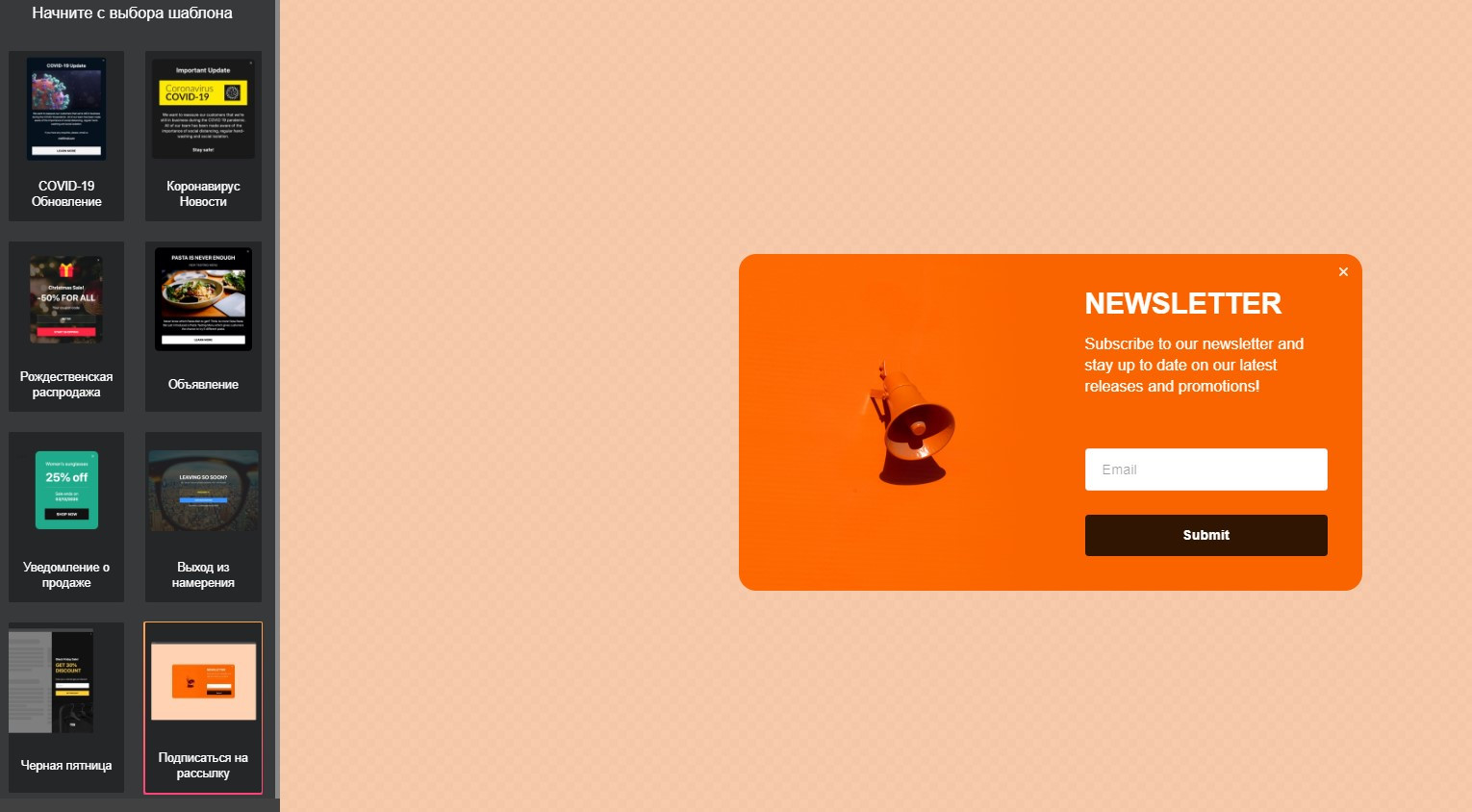 To make it easier for visitors to get feedback from you, you can add a feedback widget:

Chats
Now it is impossible to imagine life without messengers. Sometimes it is not always possible to answer a call by phone, so for such cases it is better to immediately add a widget to the site for communicating with the client in Viber, WhatsApp, Telegram or Facebook Chat. To communicate via WhatsApp, you can add this widget:

If you are ready to use messengers to the maximum to communicate with visitors, then you can add a common widget that combines all the above messengers into a single whole:

Forms
Form Builder
Feedback form
The form builder includes the ability to add a survey or booking widget: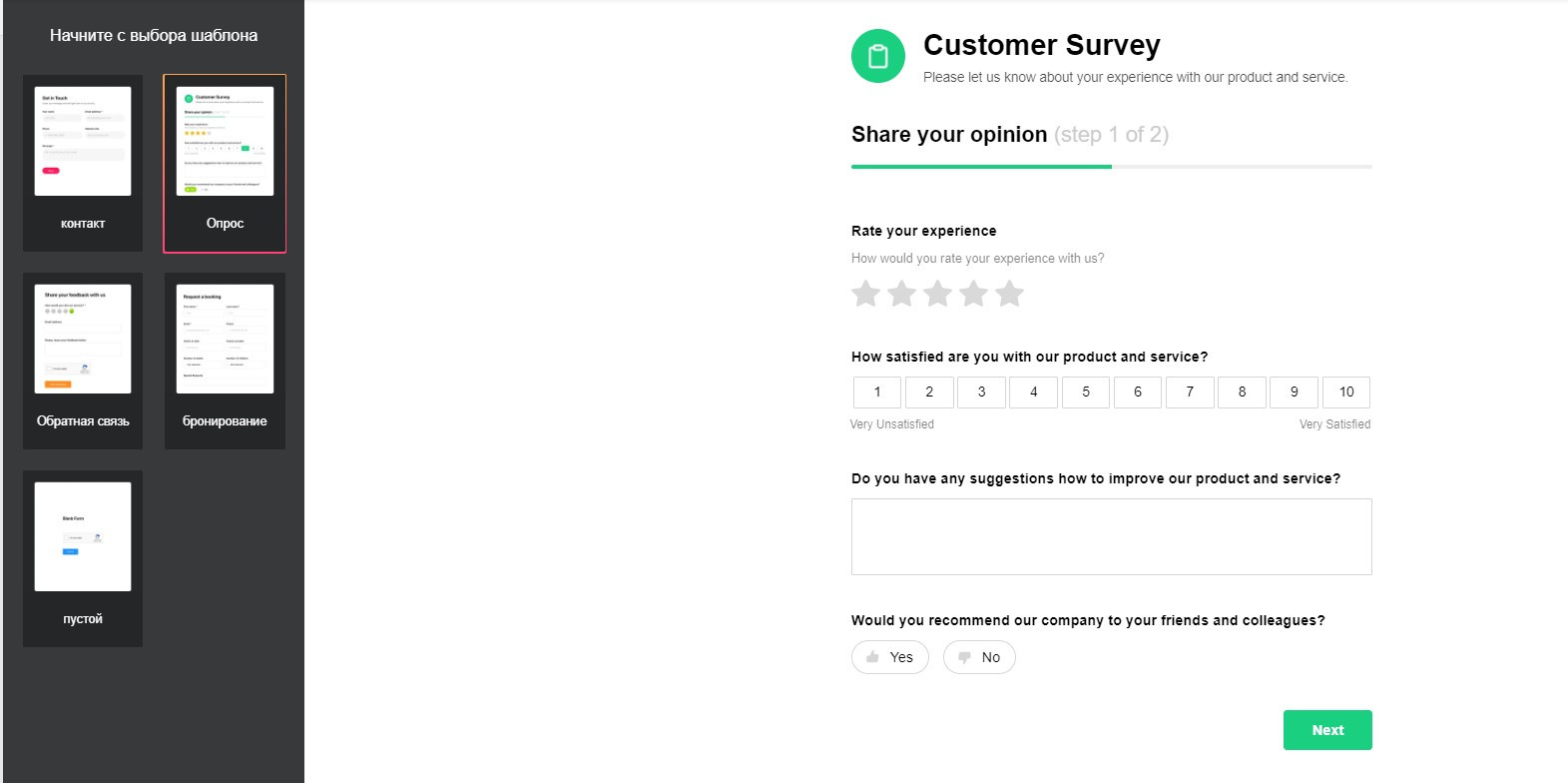 The feedback form allows you to add an extended feedback form, where the user, in addition to his full name, phone number, e-mail, can also specify his address. It is also possible to add a support application form where the user can describe the question he has, as well as attach a file to his request if necessary.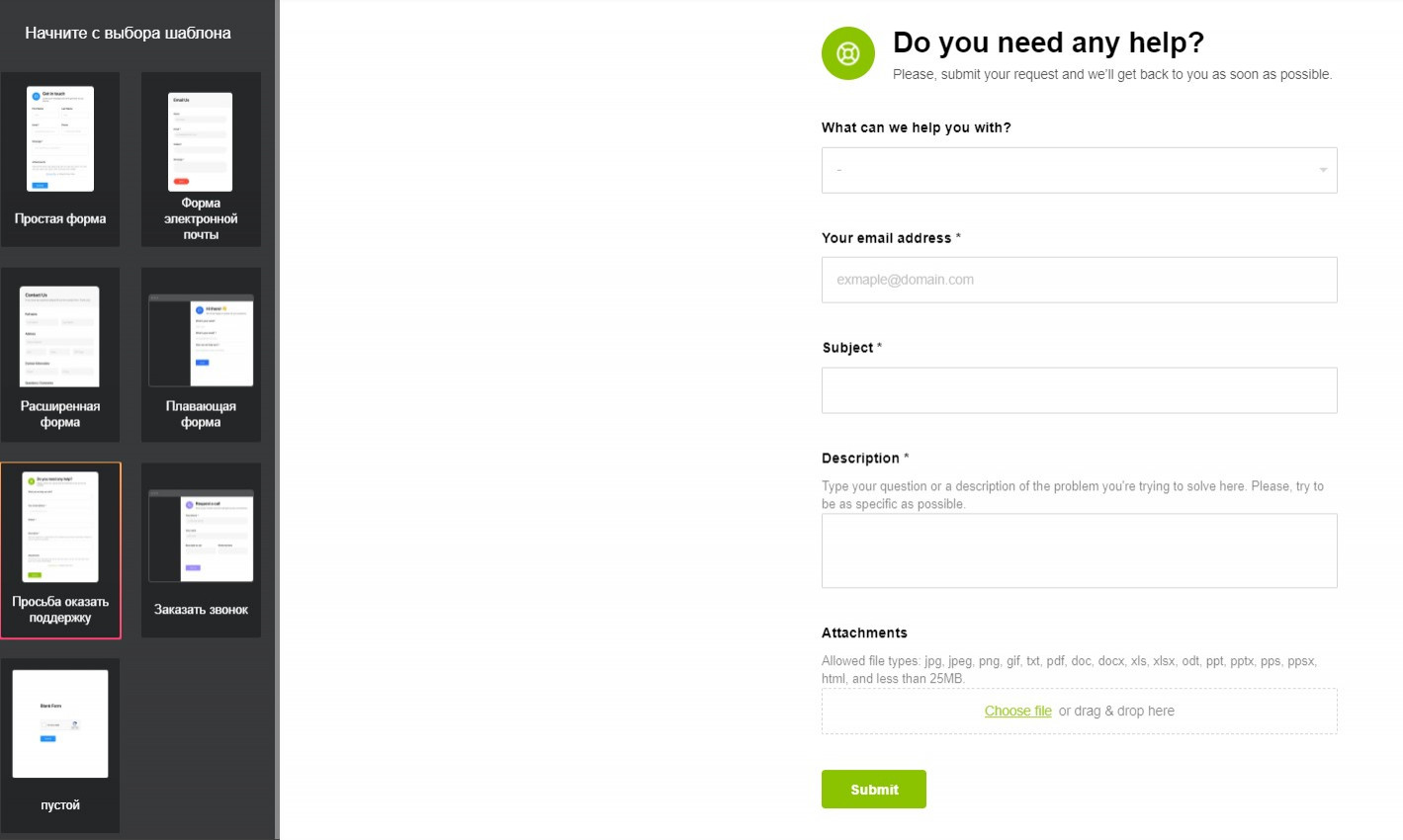 Video
It is possible to add your own channel or video gallery from YouTube or Vimeo.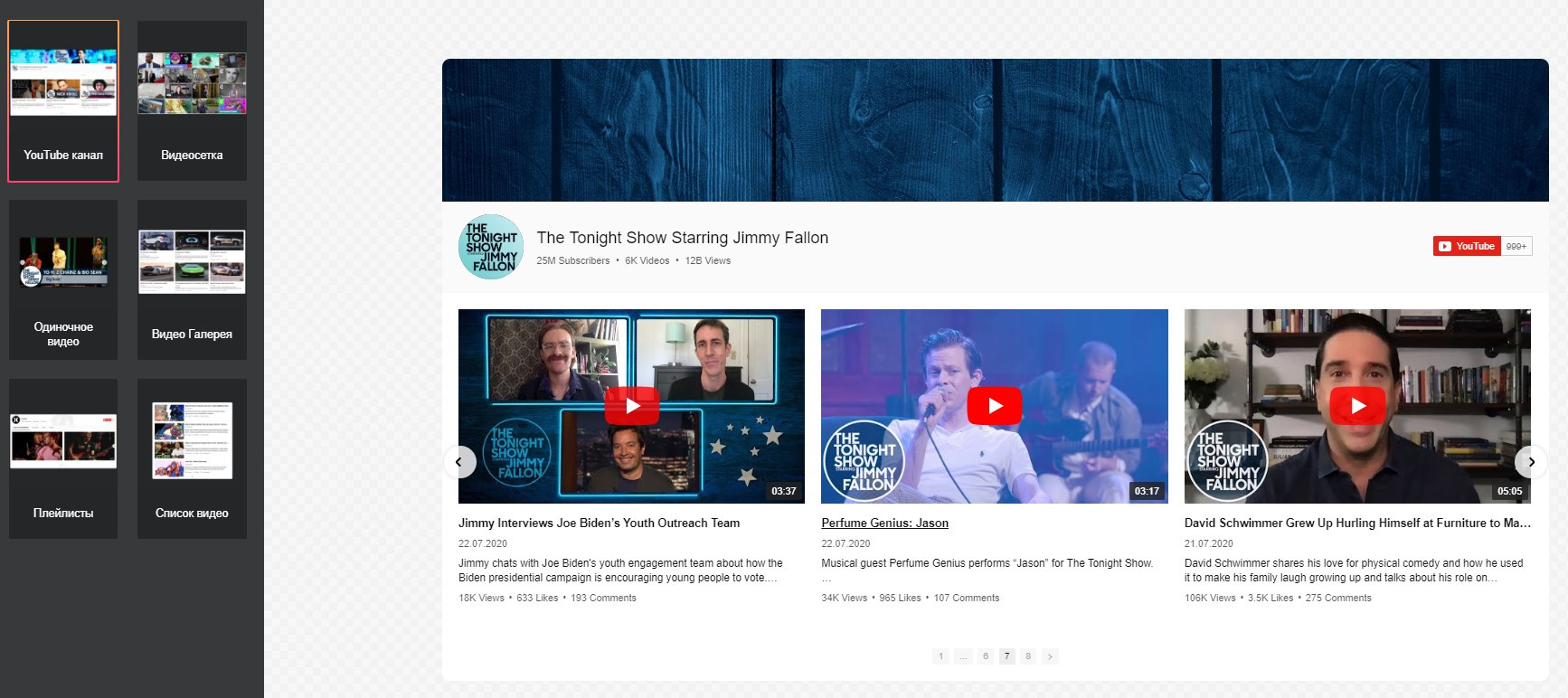 Audio
Audio Player
Podcast Player
Background Music
Radio player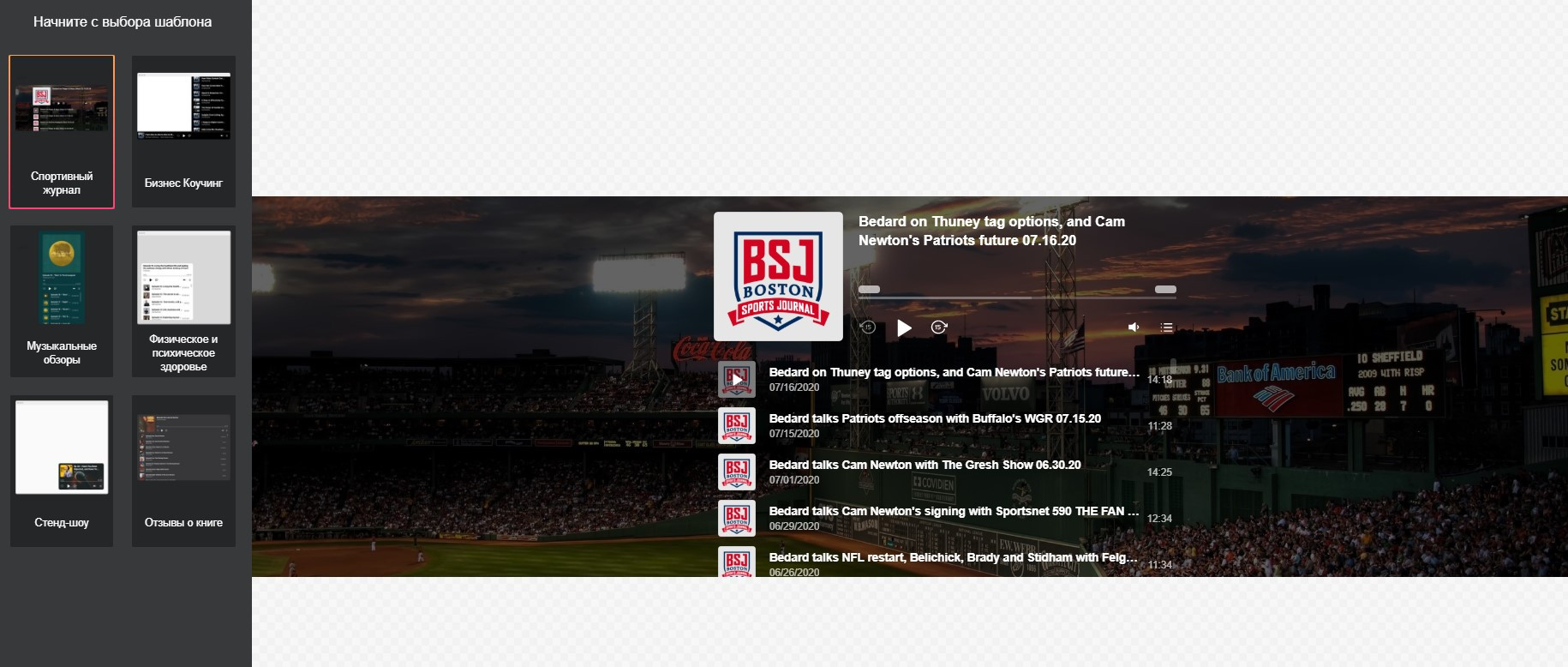 Utilities
Coronavirus statistics
Google Maps
Questions and Answers
Consent to cookies
Team Showcase
Calendar of events
Photo Gallery
Before and after the slider
Go back to the beginning
QR code
Number counter
Restaurant menu
User counter
Search
Slider
Weather
Showcase of logos
Proof of age
Insert a file
PDF Embed
Portfolio
The "Share on Facebook" button
Button "I like it on Facebook"
The "Facebook Comments" button
Now in the era of the pandemic, you may be interested in the Covid-19 statistics widget. Based on statistics from Johns Hopkins University, display information on Covid-19 online for users.

Among the utilities, you may also be interested in the photo gallery widget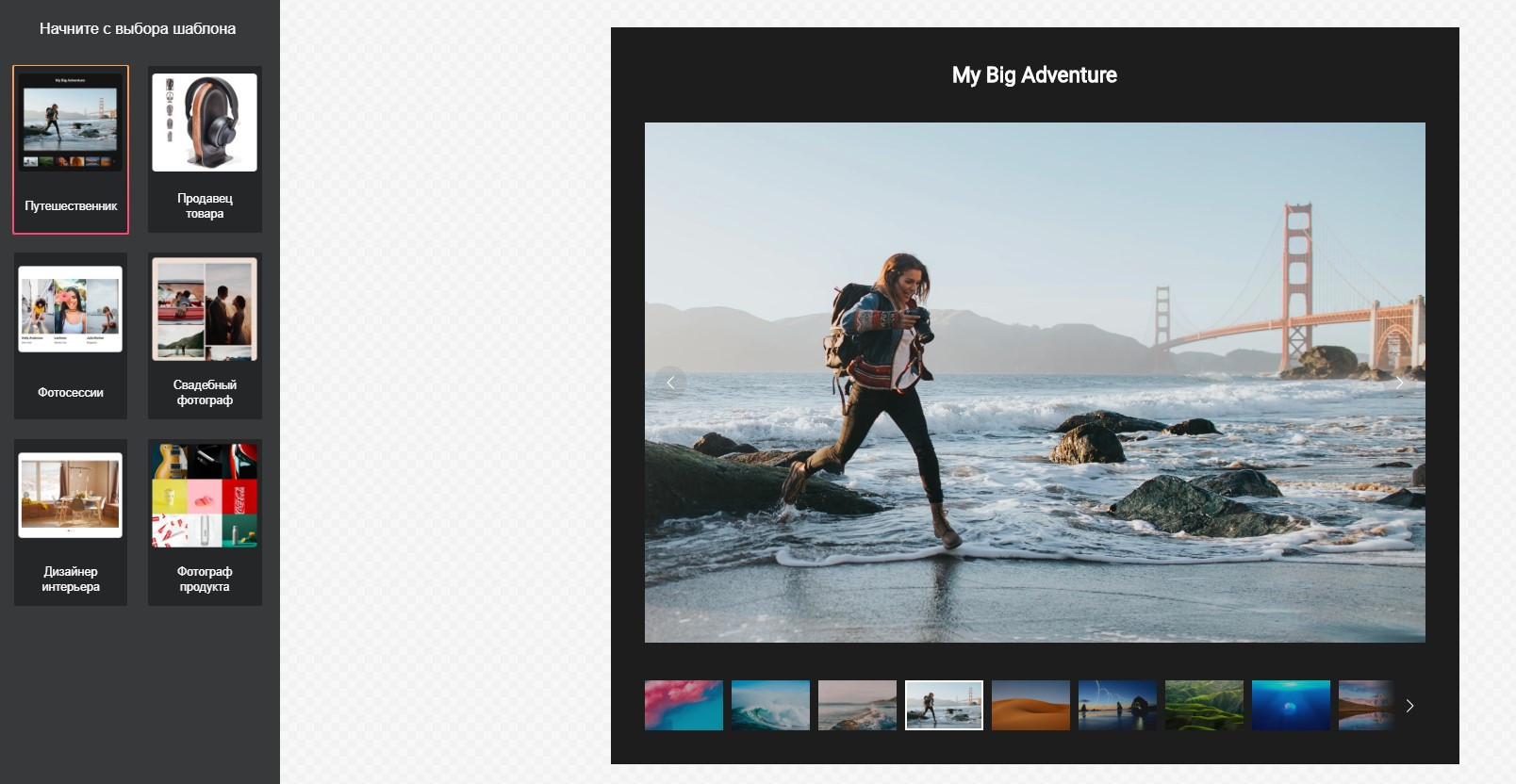 or the popular before and after comparison slider: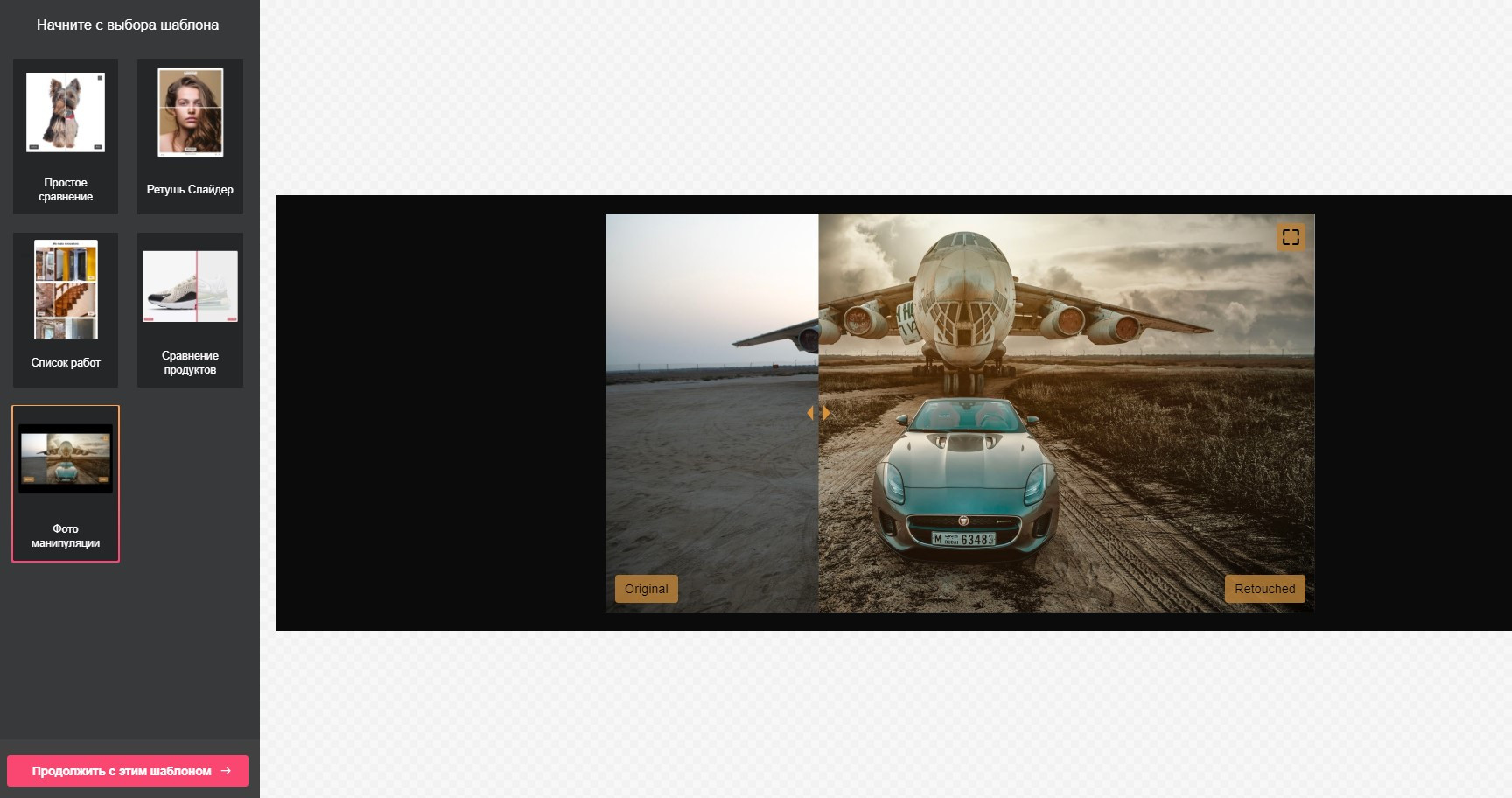 Pros
simplicity and convenience of adding a widget
there is a widget that combines several messengers
different types of social media widgets
you can pull up reviews from different sites
Support for Audio and Video content (from YouTube or Vimeo)
Cons
limited number of widget displays in free mode
Prices
The widget has a restriction on the display of the added widget. After a certain number of impressions, the widget turns off. Basic Package allows 5000 views per month. Pro Black 50,000 views. If you have a large enough traffic on the site/sites, then the Corporate package is better for you. For more information about prices, please visit the official website of Elfsight.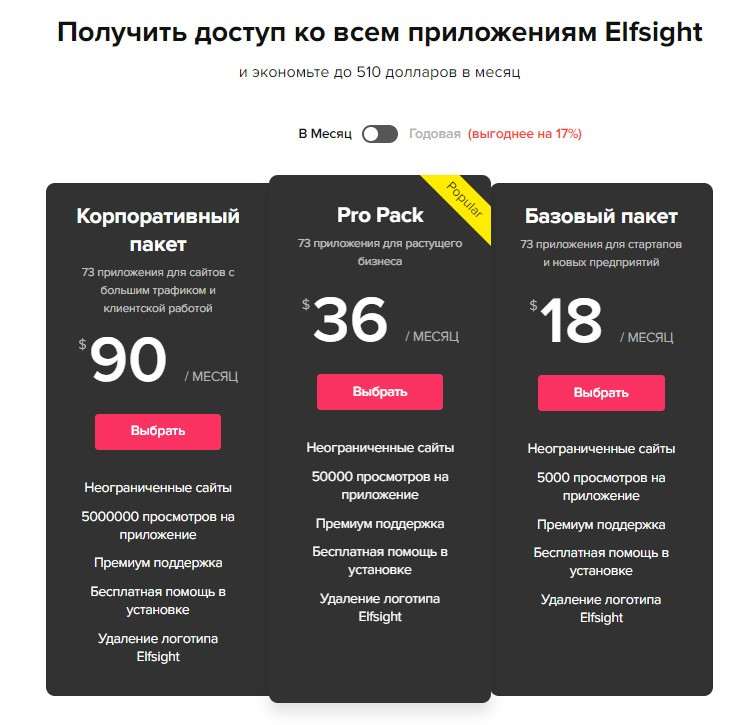 If there are any difficulties in installing or displaying the widget on the site, you can always contact technical support Elfsight for help.
Conclusion
With widgets Elfsight you can easily perform many tasks that are now in demand by many modern sites. Widgets for interacting with Instagram and YouTube are very well developed. Elfsight widgets can help increase sales, attract visitors, gather potential customers and much more. Save your time and money with ready-made solutions and grow your business faster.