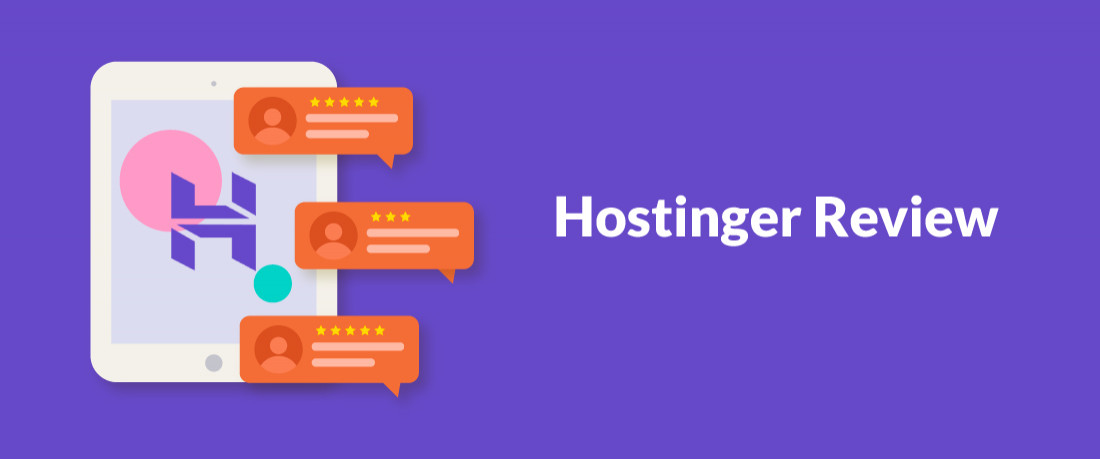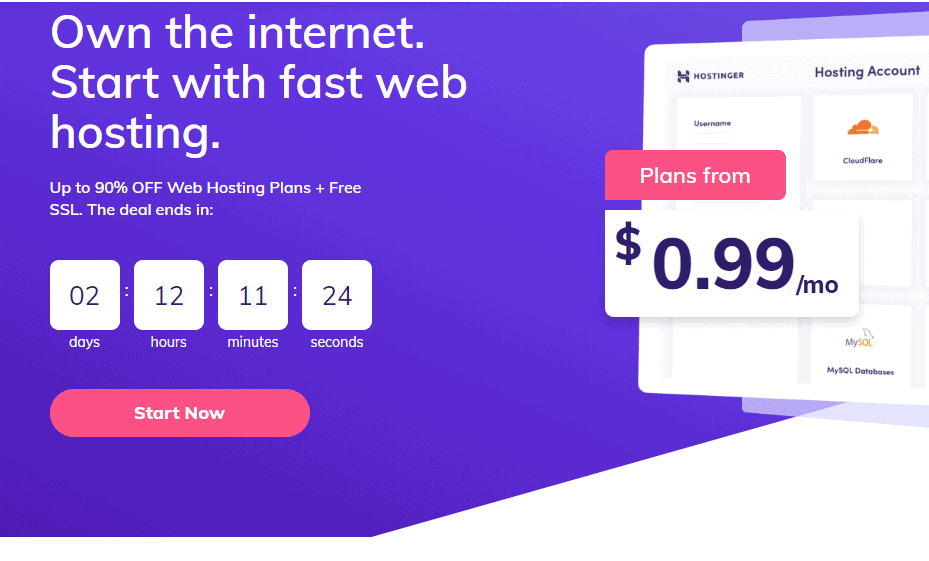 Hostinger is an online service that allows organizations and individuals to host their own website or content on the Internet. When connecting hosting services, you rent space on the server, where you can store files and data for the correct operation of your site. The server is a physical computer that is constantly running and allows users to access your site at any time. Your hosting is responsible for maintaining the server and protecting it from external malicious attacks, as well as for transmitting content (video, text, images, etc. files) from your server to the visitors ' browsers.
About the company
Hostinger is a private company founded in 2004 in Lithuania. Previously, the company was called Hosting Media. The company currently has more than 29 million users, including customers of its subsidiaries in 178 countries. Hostinger is the parent company of 000Webhost, Niagahoster, and Weblink. To improve server performance in 2019, the company changed Apache servers to LiteSpeed (LSWS). Since mid-2020, Hostinger has been a partner of the Google Cloud platform.
Advantages
Excellent customer service
Sustained uptime
Minecraft Servers
Flexible pricing plan (monthly and annual plans)
30 Days Money Back Guarantee
Free domain name (except entry level plan)
Free SSL certificate and Bitninja security on all plans
Unlimited disk space and SSD bandwidth
Google Ads Credit
Disadvantages
No dedicated hosting
Not every data plan has a Windows option
Lack of phone support
The basic shared hosting plan offers only one email account
Modest results for regions outside the US and UK.
The most common type of hosting is shared hosting (shared hosting). This solution is perfect for small projects and websites. Shared hosting means that a single server can host many other websites in addition to your site. Accordingly, websites located on the same server share server resources such as memory, computing power, disk space, etc.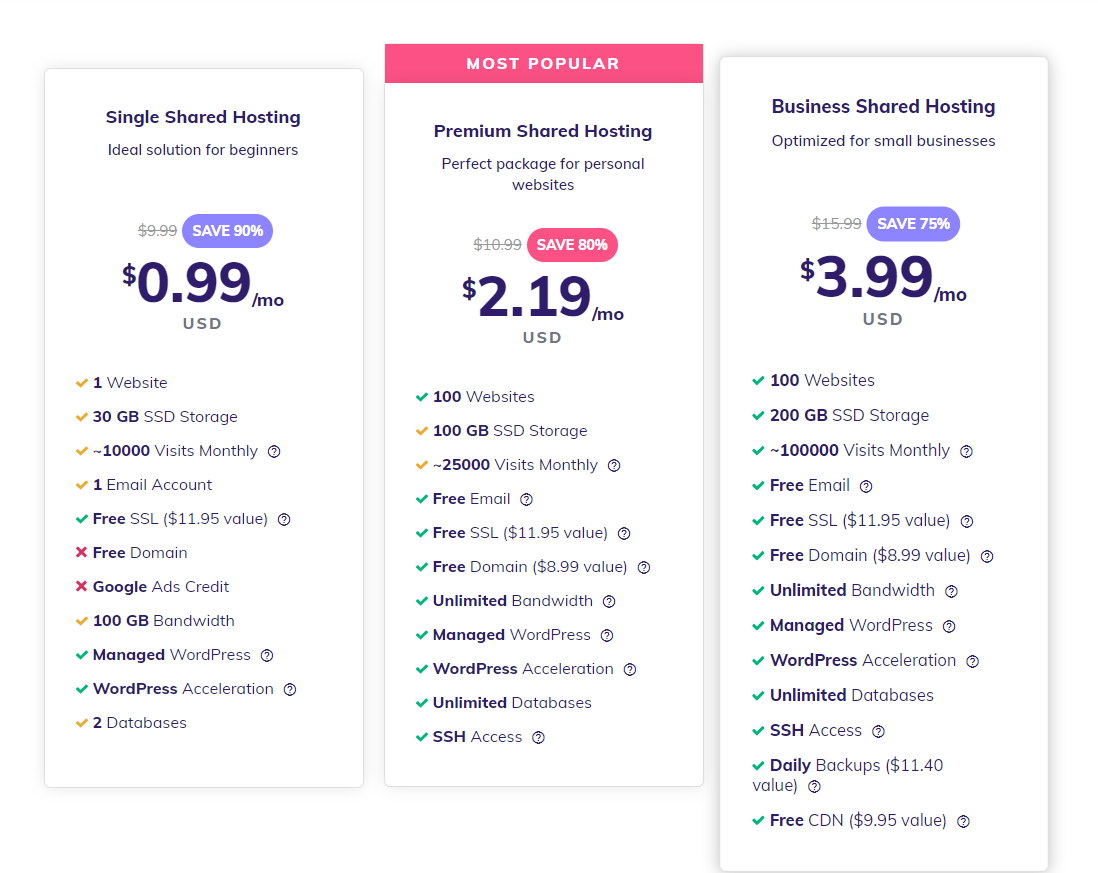 VDS / VPS hosting
VDS and VPS - Virtual Dedicated Server (virtual dedicated server) and Virtual Private Server (virtual private server), respectively. Despite the fact that VPS is virtualization at the operating system level, and VDS is virtualization at the hardware level, in fact, the end product is the same thing. Compared to virtual hosting, VPS hosting gives your site additional server resources to work with, as there are fewer sites on the server. This means that you get allocated space on the server and a reserved amount of computing power and memory. If you are serious about building your business online, then VDS / VPS hosting can be a great solution.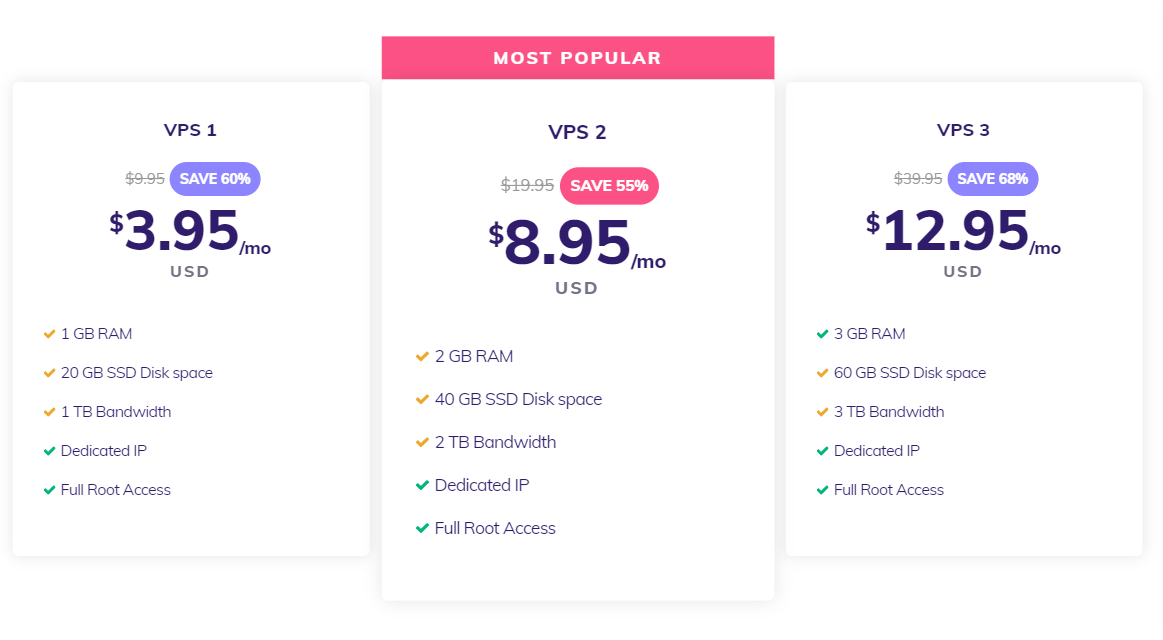 Cloud Hosting
Cloud hosting is a form of web hosting where your site runs on several different servers. You can scale resources in real time, as your site is not constrained by the physical limitations of the server. Hostinger offers three levels of cloud hosting: Cloud Startup, Cloud Professional, and Google-based Cloud Global.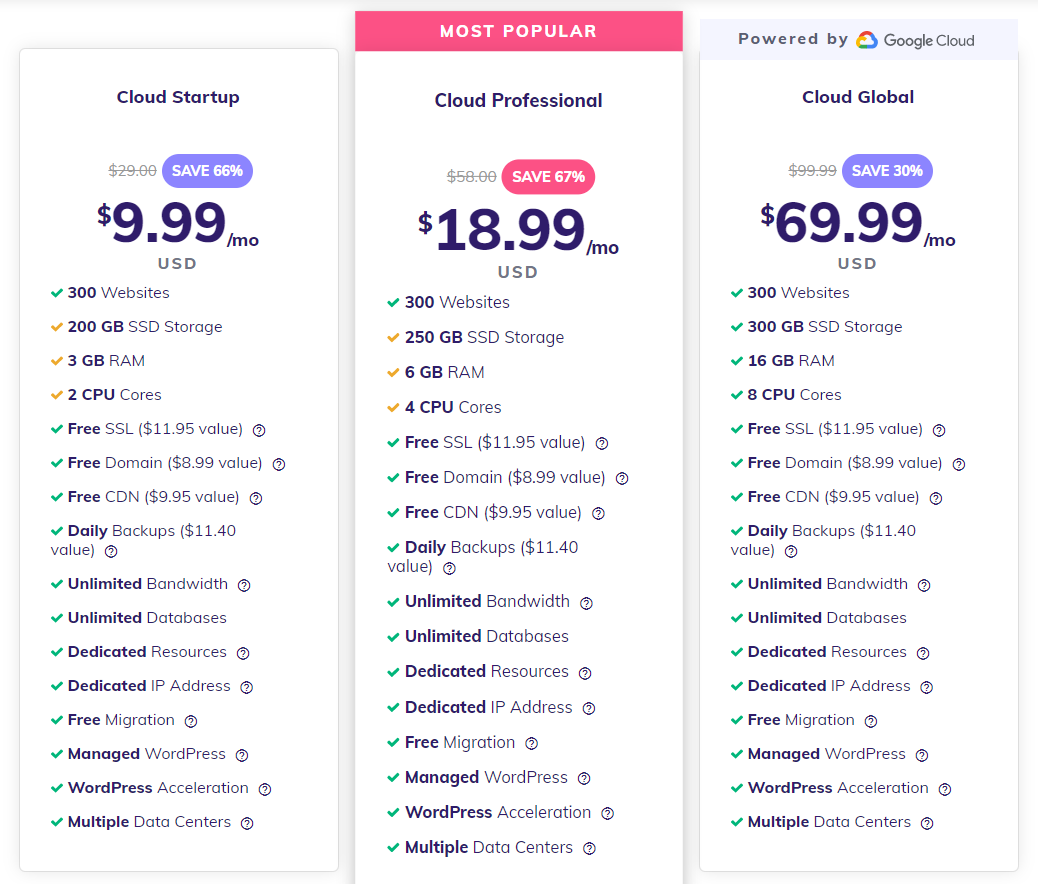 The entry-level tier (starting at $ 29 per month or $ 9.99 per month with an annual commitment) comes with 3 GB of RAM, 200 GB of storage, and unlimited monthly data transfers. The average tier (from $ 58 per month or $ 18.99 per month with an annual commitment) increases RAM to 6 GB and storage to 250 GB. The high-end tier (from $ 100 a month or $ 69.99 a month with an annual commitment) boasts 16GB of RAM and 300GB of storage. All plans include a dedicated IP address, a free SSL certificate, and unlimited website hosting. Two-year and four-year plans are also available for these plans.
WordPress hosting
WordPress is the most popular content management system in the world. Due to its simplicity and reliability, the WordPress plugin is very easy to customize to your liking. Hostinger has several WordPress pricing plans: Starter, Premium, and Business. WordPress hosting plans and shared hosting from Hostinger have the same names, but offer different characteristics.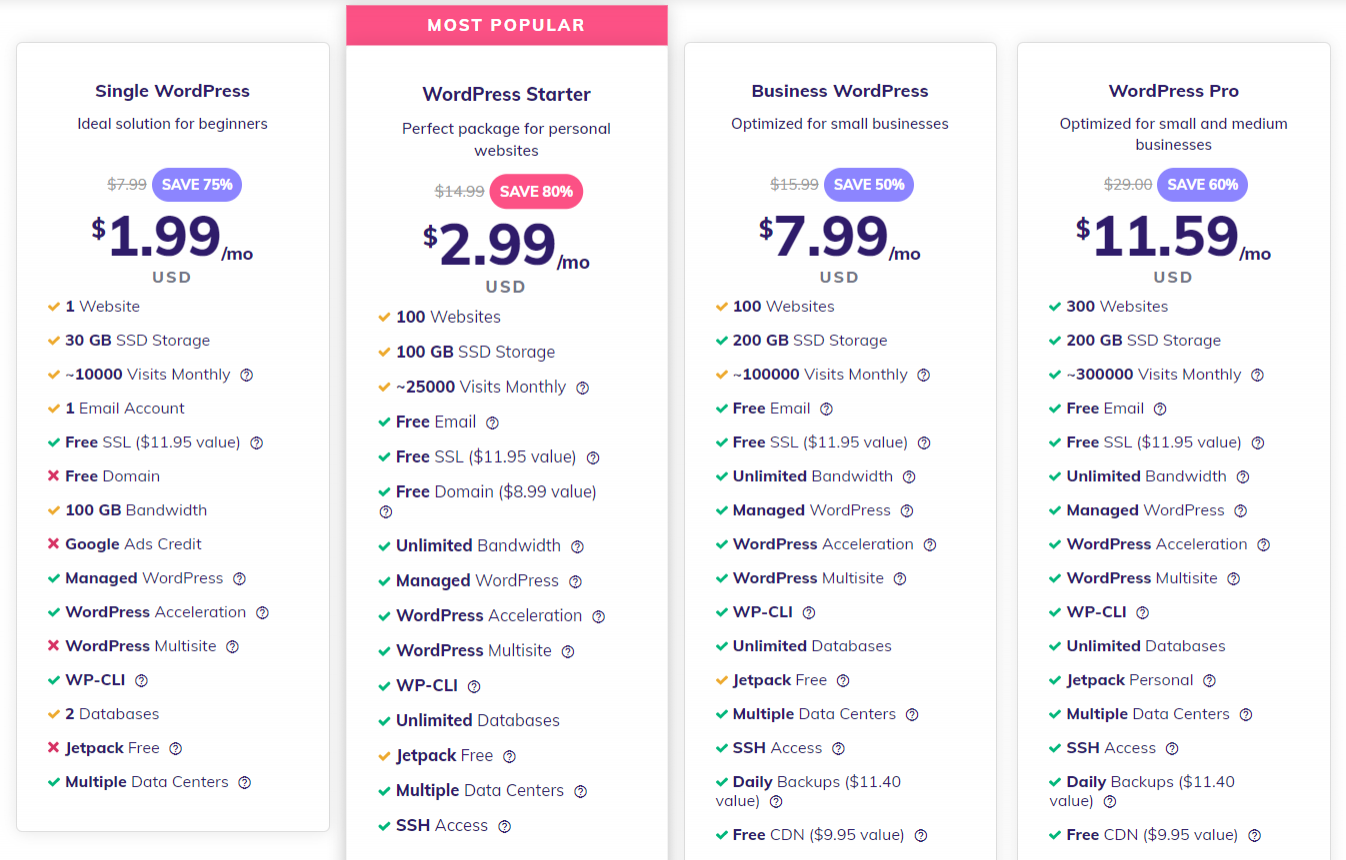 Hostinger offers an ultra-easy customization process that allows you to set up and launch your site in just a few minutes. It is also possible to migrate existing sites manually or using the Hostinger agent.
Hosting Minecraft
Minecraft hosting is a great addition to the line. Hostinger can serve gamers with their multiplayer VPS plans. There are 5 tariff plans: Alex, Villager, Creeper, Herobrine and Enderman. Each one provides more resources, features, features, and supports more players than the previous one. The servers are equipped with dual-processor hardware using a server-level Intel Xeon processor. To make the deal sweeter, you will get a special IP address (both IPV6 and IPV4 based) for free.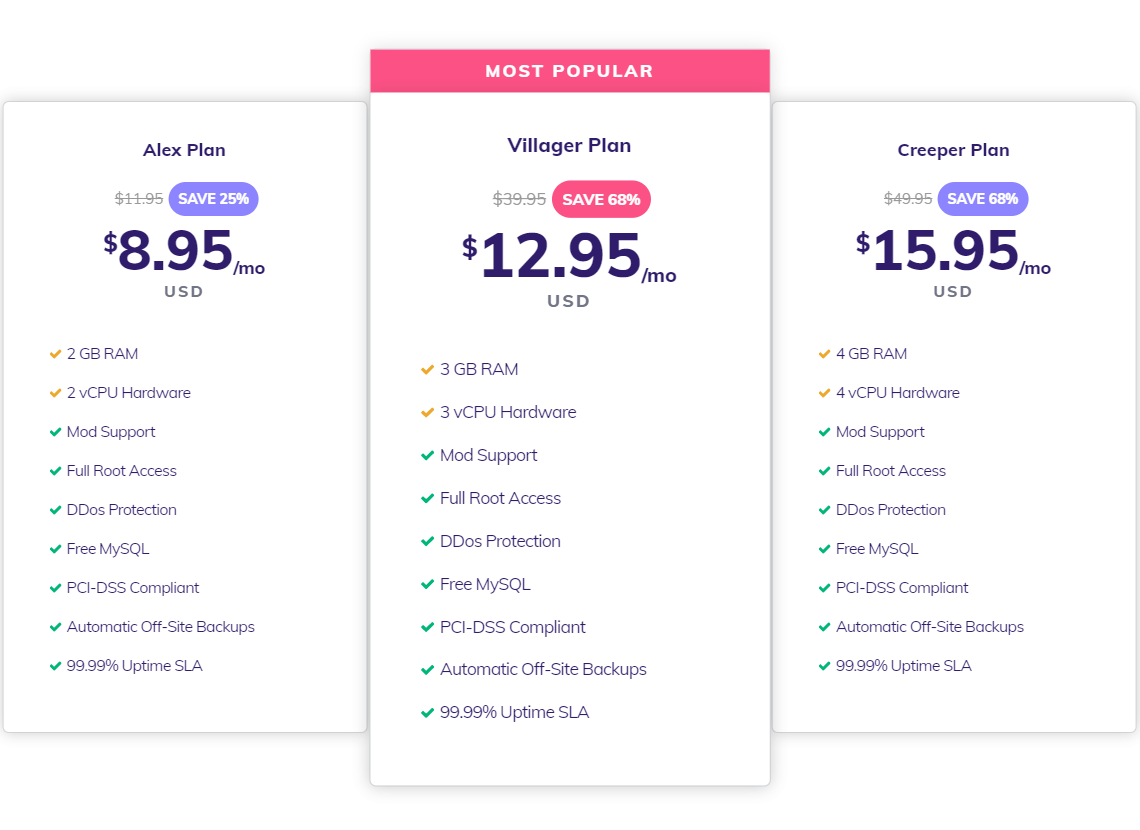 Minecraft Hostinger servers are only hosted in the UK, USA, Singapore, Lithuania and the Netherlands. You have the option to choose your preferred location, which you should consider to prevent a lot of delay and lag for your Minecraft friends.
Conclusion
Hostinger is a versatile web hosting service that offers excellent customer service and uptime. Good is equally suitable for beginners with small projects, and for professionals with large business projects. Premium, Cloud Hosting and Business Web Hosting plans offer a huge set of tools for solving urgent tasks. The affordable hosting plans from Hostinger are worth your time, money, and attention.
As for the payment methods, the services can be paid by bank card or via PayPal. If you want to use the hosting services anonymously, you can pay for the tariff plan with bitcoins and other cryptocurrencies.