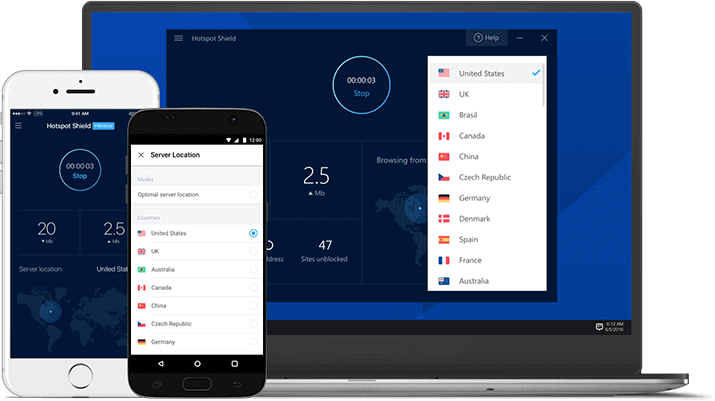 AnchorFree's product (currently Pango) Hotspot Shield has been operating on the VPN services market since 2005.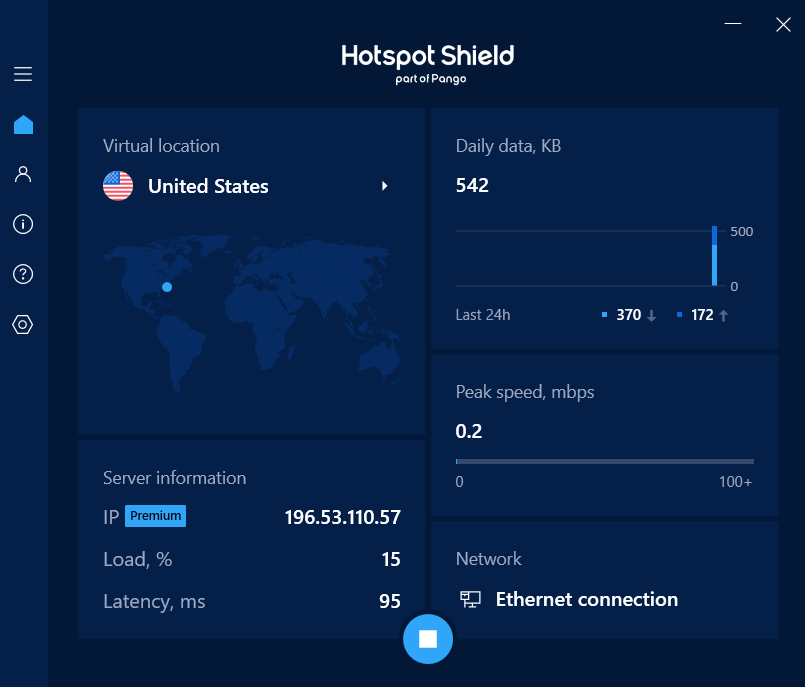 It has a large server network and custom VPN applications for most popular devices.
Hotspot Shield is divided into two products: free VPN and paid Hotspot Shield Elite with more than 650 million customers. The paid version of this product is one of the most popular among all VPN providers in the world.
The free version of Hotspot Shield is an ad-sponsored VPN with a data limit of 500 MB per day. Upgrading to the paid version removes ads and provides you with unlimited bandwidth, access to servers in 82 countries, as well as a number of built-in security features.
Hotspot Shield is a very fast VPN, thanks to a proprietary encryption protocol called Catapult Hydra. The applications are easy to use, remove restrictions on American Netflix and allow you to use P2P and torrent traffic on all servers.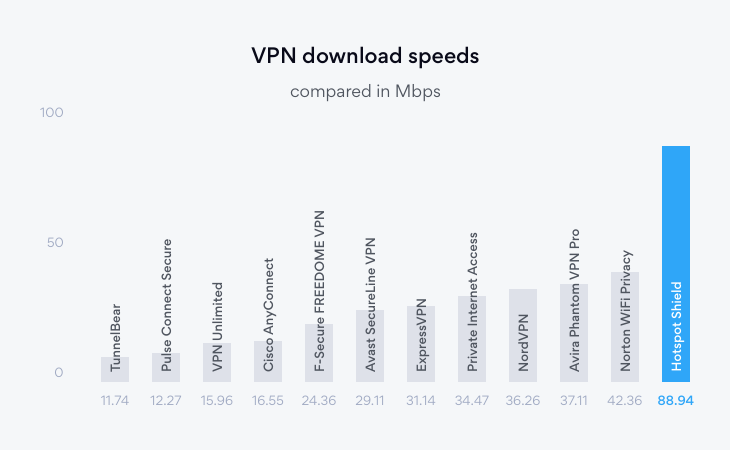 Hotspot Shield is still one of the best VPN networks, despite the fact that there is no way to use the OpenVPN protocol, and there is no VPN kill switch for macOS, Android or iOS, which is the main means of security control for such a popular VPN. It is great for unlocking streaming services and protecting your data on open public WiFi networks.
Advantages
Impressive loading speed
There are no IP, DNS and WebRTC leaks in the applications
Paid application opens the possibility to use torrent traffic
A good-sized VPN server network: 82 countries
Convenient VPN apps for popular devices
Disadvantages
Unreliable for use in China
Insufficient transparency of the Catapult Hydra protocol
The free app sends information to advertisers
Past controversies around the free VPN app
Based in the USA, which raises questions about privacy
Paid version of Hotspot Shield
Hotspot Shield Elite supports up to five simultaneous connections, which is probably enough for most users and is the industry standard. If you need more, set it up on your router (all your devices use the same connection). But some providers allow you to use more devices as standard, for example, NordVPN supports 6, IPVanish supports 10, Windscribe has no restrictions.
The premium version of Hotspot Shield, along with its call blocker, password manager and identity theft protection service, costs $12.99 with a monthly payment. This is the upper limit of the usual VPN range, but it's still not bad if you use at least one of the additional features.
The annual plan costs $7.99 per month and is also expensive compared to a standalone VPN product, but not bad considering everything you get. A three-year plan is a very low $2.99 per month, but you only get additional products for the first year. At this price, we can turn a blind eye to it, but if all you need is a VPN, then there are better deals.
Privacy
Understanding VPN security usually begins with learning about protocol support, encryption, and authentication. It can be very difficult, but just by seeing that the service supports a secure protocol such as OpenVPN, you can get encouraging feedback about its security. Hotspot Shield is more difficult to evaluate because it does not support OpenVPN, IKEv2, L2TP/IPsec or other standard VPN protocols. Instead, the company uses its own proprietary Catapult Hydra technology.
Hotspot Shield informs that Catapult Hydra is based on TLS 1.2, with AES-128 encryption, 2048-bit RSA certificates for server authentication and keys exchanged via Elliptic Curve Diffie-Hellman (ECDHE) (keys are valid only for one session, new ones will be created next time). This is more than enough for encryption lovers
Hotspot Shield Servers
Hotspot Shield VPN server network consists of more than 3,200 servers covering 82 countries. Although this is a large number, it is not the largest selection of locations.
Hotspot Shield servers are quite scattered, so there aren't many gaps in coverage. You can get an IP address associated with popular countries such as the UK, USA, Canada and Australia, as well as some less common countries such as Ecuador, Egypt and Thailand.
In the USA, there are a large number of VPN servers in 27 different cities, including New York, Los Angeles and Dallas.
Users Hotspot Shield Free have no choice of location other than the USA.
Availability
Hotspot Shield is compatible with most major platforms and devices, including Windows, Mac, iOS and Android. You can also use a VPN on up to five devices at the same time as part of a paid plan.
It will work on your smartphone and desktop computer and has applications for:
Windows
MacOS
IOS
Android
Linux
Amazon Fire TV Stick
Android TV
Extensions for Chrome and Firefox browsers.
Not so long ago, there was support for routers. This means that you can now use Hotspot Shield with Playstation, XBox or Nintendo Switch. It also means that you can connect many more devices with a single subscription.