Overview of free add-ons compatible with Elementor
/

/

Overview of free add-ons compatible with Elementor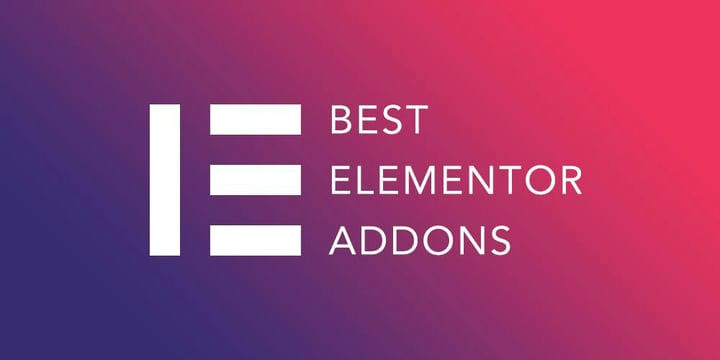 The first impression of the site is very important for the visitor. Therefore, thoughts often arise about improving the visual part of the site. In addition to design, I always want to improve some points a little. A WordPress page builder, such as Elementor, can come to our aid in this matter. It will help us personalize the website without any programming knowledge. It is important that your installed theme must be compatible with Elementor. List of the best themes compatible with Elementor:
Deep
Kata
Jupiter X
Monstroid2
Astra
Phlox
OceanWP
Zakra
Airi
Neve
These options are compatible with the free version of Elementor. The free add-ons will be described in more detail below.
This article will review the best free Elementor add-ons for WordPress:
Starter Templates

At the moment, there are more than 280 ready-to-use complete website templates developed using Elementor together with individual pages.
In this package there are page constructors Elementor, Beaver Builder, Gutenberg and Brizy Templates. And you have an additional option to either import the demo completely, or only selected pages using this plugin.
If you have not yet decided on an addon for the future of your project, do not worry. We hope after reading the article you will be able to choose a free addon from Elementor without hesitation.
Also pay attention to the number of ratings and reviews for the addon from Elementor. Reviews and ratings speak for themselves.
With the help of a free template, you can create your website in just a couple of clicks. The starting template has an improved template search option. And the built-in filters allow you to mark your favorite templates, get theme settings.
You can also search for images in the WordPress media library with the ability to import images from Pixabay (an international website on which photos, vector graphics and short videos are posted as public domain). You can also import ready-made Elementor blocks and templates. A distinctive feature of the Starter Templates plugin is simplicity. You create your website in just a couple of clicks. To create a website, you will need:
Install and activate the template for beginners
Select the page builder
Choose a website or a demo page that you like
Install any plugin you need
Import a website/page template
Stratum Elementor Add-ons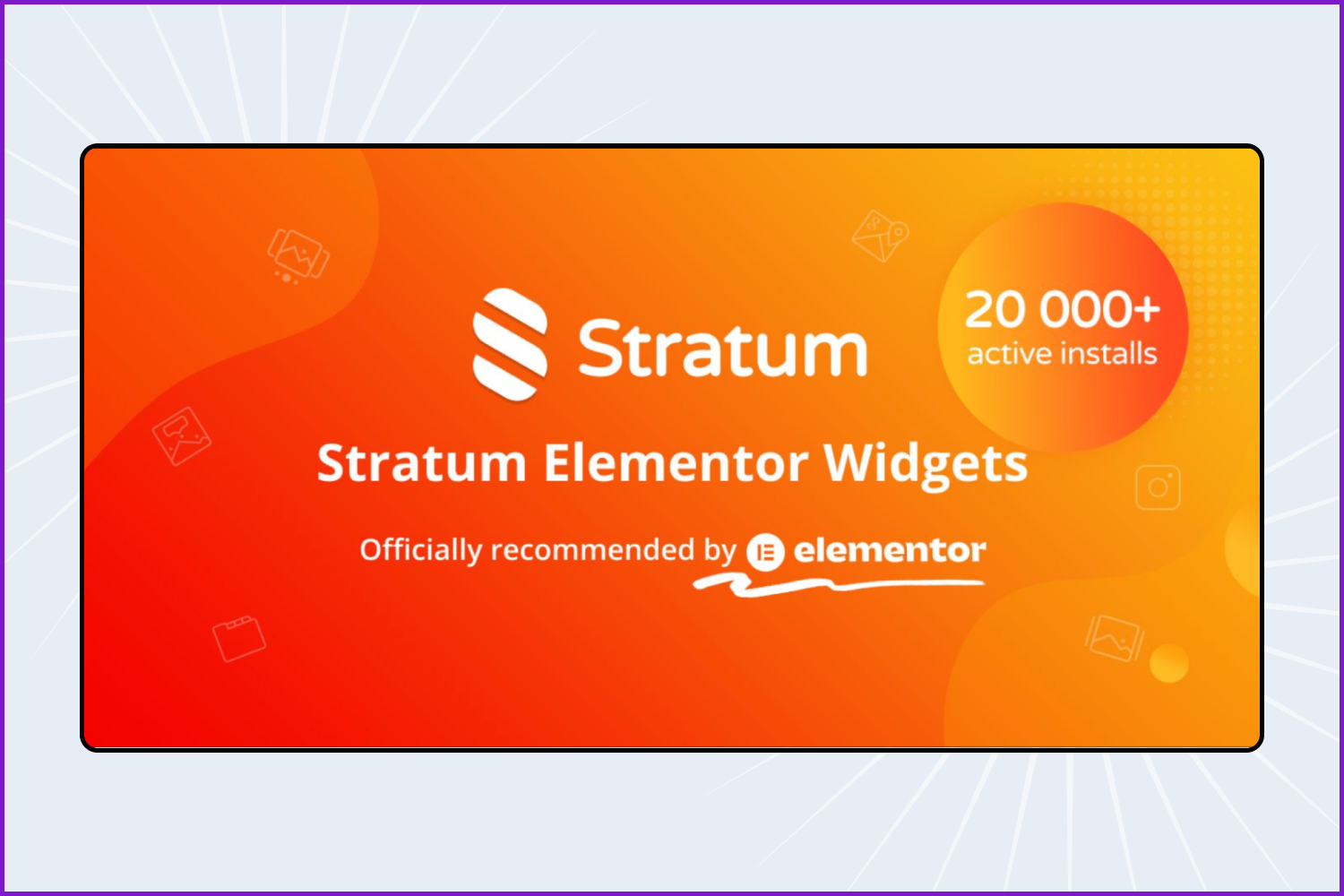 Elementor add-ons allow you to expand design options and capabilities. Some of them add new design blocks and Elementor widgets, while other add-ons add design options for current widgets or other additional features. The free version has the necessary widgets available, such as Advanced Slider, Advanced Google Maps, Advanced Tweets, Instagram, Advanced Accordion and others. Stratum is a free Elementor add—on with over 20 advanced widgets. Widgets are quite simple and clear. Perfectly customizable to use with this versatile add-on. Suitable for beginners and experienced users. Stratum distinguishes from other premium Elementor add-ons the ability of any widget to inherit the color, typography and other style settings of your current site theme. Its default design can save time and effort when customizing additional widgets to suit your theme. This will help you work more efficiently.
As a result, you will not have to produce extra multifunctional widgets that can inflate your site.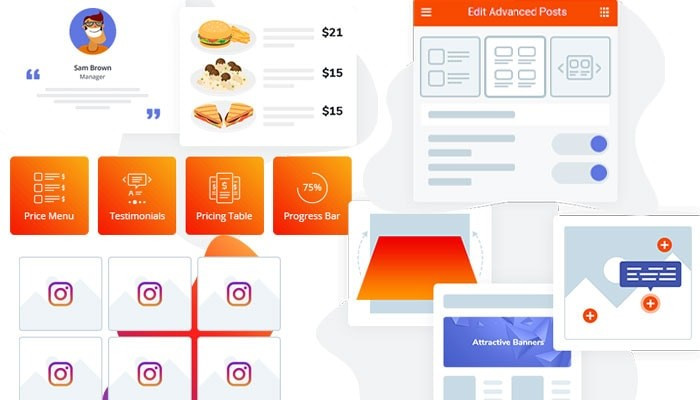 Here are some of the key features of the Startum Elementor addons:
It is fully adaptive
Stratum modules save all style settings of your active themes
Stratum works fast and does not slow down your site
A good set of widgets with marketing themes (Banner, Image Hotspot, etc.).
Easy integration with Instagram and Google Maps
An extended set of design tools is included for each Stratum widget
Free Elementor Widgets: 14+ widgets including Picture Hotspot, Price Menu, Masonry Gallery, Instagram Feed Gallery, Flip Box, etc.
Crocoblock - расширение JetPlugins Elementor

Croco Black is a package of various WordPress plugins that allows you to create your own websites using Elementor. The Crocoblock package includes all JetPlugins (JetReviews, JetAppointments, JetSearch, JetBooking, etc.) and a huge set of ready-made templates. With the Crocoblock package, you have the opportunity to add a number of components, such as Message, WooCommerce, Popup, etc. into your template. This will help you speed up the website setup process. Croco Black includes:
20+ Plugins
150+ widgets (for Elementor and Gutenberg);
47 design templates;
12 ready-made dynamic templates for the entire site;
free Kava theme;
regular updates and technical support.* регулярные обновления и техническая поддержка.
It has a free standard Java theme. The Kava theme will be a great option. It is very clean and modern. In addition, it is very lightweight, fast and compatible with Elementor. You can use it with Jet plugins and create different types of websites such as ecommerce, booking, blog, corporate and more.
WooLentor

Violentor is an add-on, a multifunctional plugin for WooCommerce. With this WooCommerce constructor, you can change even a small part of your online store.
Excellent design choice with 42 packaging layouts. With this plugin, you can easily add custom product grids to your pages and publications. It can show new products, best-selling products, products on sale, recommended products, related products and products by category. Now let's see what WooCommerce Builder provides:
Ability to choose a single product layout
Three product page layouts are included in the plugin
It is also possible to choose an archive page template
Ability to create an unlimited number of custom designs for WooCommerce pages
Another of the features can be distinguished:
WooCommerce Template Builder
WooCommerce Featured, Recent, Bestsellers, Sale, Best Ratings, Product Category Slider / Tab
Styles 42
Function keys in different places
Sales /discount schedule counter
Ability to enable/disable the gallery
Unlimited color and font changing options
Slider Control Options
Product Grid
The main functions of WooLentor:
Sales Notification: has a pop-up window with a sales notification, which is not only convenient, but also helps to increase sales and conversions. As soon as a visitor gets to your website, you can demonstrate a WooLentor sale notification pop-up anywhere on the website. The pop-up window displays information about the purchase, such as the buyer's name, location, price, etc.

Instant Sale Countdown: Instant sale countdown has the magic power to increase sales. You can set a discount timeline for a number of products and display it using the Quick sales countdown feature in your WooCommerce store. What this does is create a sense of urgency and encourage buyers to make a purchase.

Customer Feedback: Displaying customer reviews of your brand or products is of great importance for creating a positive impression among visitors. WooLentor customer reviews feature will allow you to add your customers' reviews to your website WooCommerce. You can even give a catchy look to customer reviews by styling the layout.

Partial payment: Another sales—boosting feature offered by WooLentor is partial payment. Often buyers refuse to buy the desired goods due to lack of money. This is where the partial payment function comes into play. With this feature, you can allow buyers to make payments in installments or in installments, increasing the chances of a sale.

QR code: QR code is known for its versatility. It is a multi-purpose code that can be stored, tracked, and easily accessed. However, WooLentor's QR code feature will allow shoppers to add items to their shopping carts by simply scanning the QR code with their smartphones.

Rename a shortcut: WooLentor makes it easy to rename the mark for "Store", "Product Information", "Shopping Cart" and "Checkout".

Call the price: Suppose you have an item without any price and your buyer needs to contact you to find out. There are many sites where products are displayed for free. So we applied this function as well. Your customer can easily click on the "Request a price" button on the mobile phone and ask you for an offer (me).

Offer a price: Your buyer can offer a price for your products. You can add this button anywhere on the product details page. We placed it to the right of the "add to cart" button. If the customer clicks on it, a contact form will open to send a price offer.

Accordion Product: The accordion of the product is a very convenient element of the website, which helps to store text in a limited space. Some ecommerce pages, such as the homepage, product page, etc., may contain a lot of text. If all texts are displayed on these pages, scrolling will become long, which is disgusting.

Product Video Gallery: Video plays a key role in explaining products. It's an amazing idea to add videos to product pages, giving comprehensive insights about various products. The video gallery function of the WooLentor product can bring this idea to life. This will allow you to add videos about products to the pages of your website in the gallery with full control over the position of the gallery. Customizing the checkout page: the checkout page contains several sections, such as payment details, order details, payment method, etc. These sections again boast a number of fields. These sections and fields should catch the eye of buyers. WooLentor offers customization of the checkout page, with which you can customize the layout of the checkout page and other parameters at your discretion without writing a single code.

Customize a single WooCommerce product template: WooLentor allows us to create an individual template for a single product. You can create a unique design for your product page. In the free version, it is possible to create a common product page template, in the Pro version, you can create a different design for each product page.
HT Mega Addons

HT Mega Addons is a popular WordPress plugin that provides a complete set of tools for creating custom websites. With HT Mega Addons, you can easily create responsive layouts, add social media integration, e-commerce functionality, and more. As your needs change through HT Mega Addons, you can easily add new features to the site. Therefore, HT Mega Pro Addons is an excellent assistant and an important tool when creating your own website using WordPress.
If you create websites for customers, you can rely on HT Mega Absolute Addons for Elementor to solve any task - from creating classic pages to configuring third-party plugins such as booking calendars, bbPress forums and WooCommerce stores. Some key features of HT Mega Absolute Addons:
Each widget has ready-made styles
Support for many styles of third-party WordPress plugins
Header and footer constructor
There are 15 sets of categories and templates
It includes many WooCommerce widgets
One free WooCommerce theme
In addition, there are Free Elementor widgets, including 85 widgets such as multiple messages, form styling and WooCommerce elements
Free design templates: 15 templates plus free WooCommerce 99fy theme