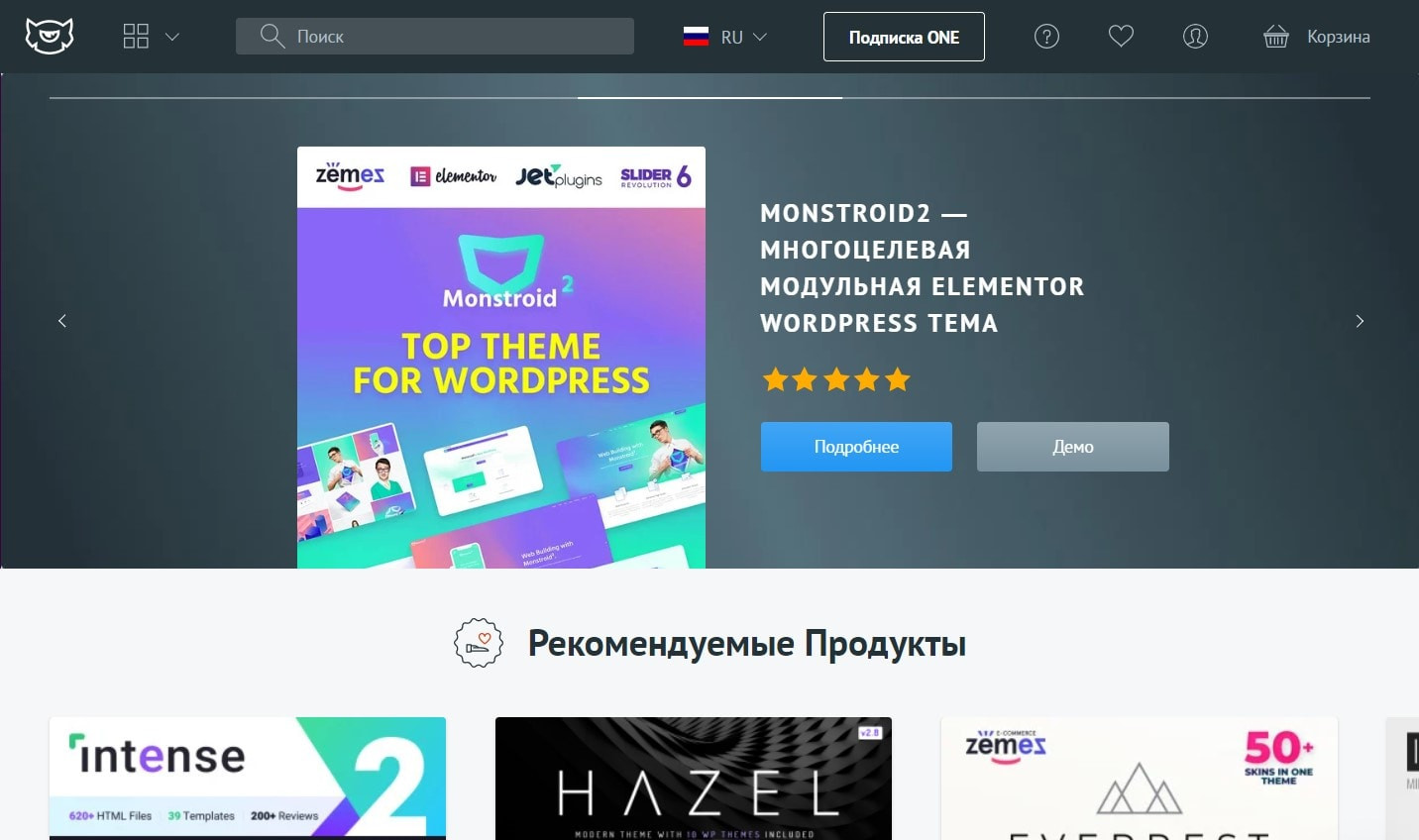 TemplateMonster was launched in 2002 by immigrants from Ukraine. Initially, the service team developed templates with their own hands. Later, having gained a certain level of popularity, she began working with large contractors and CMS programmers.
Fortunately, you don't have to spend hours searching for the right template, because TemplateMonster has pretty good filters and search options. At the beginning, all topics are divided into categories (for example, animals, design, fashion, medicine, etc.).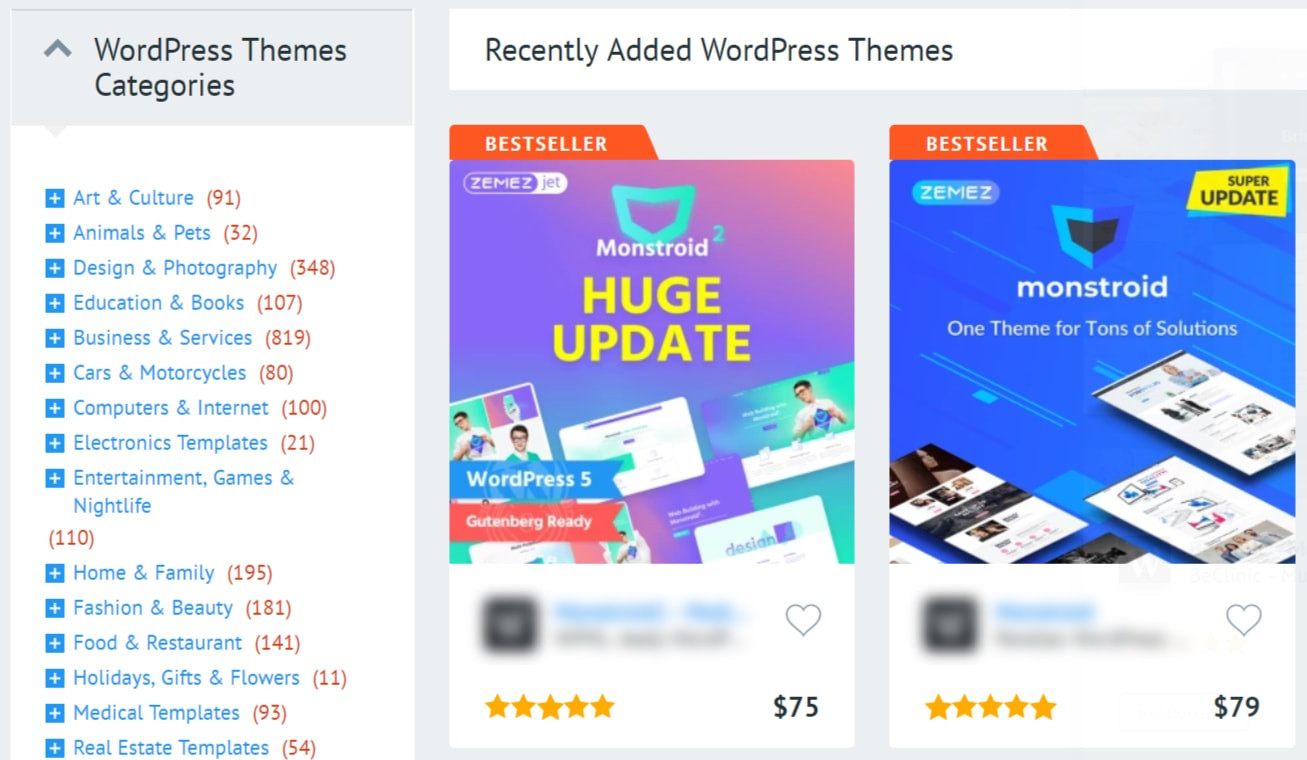 Template quality in TemplateMonster
If the themes are unsightly, poorly optimized or not suitable for mobile devices, filtering will not help you. Most of the topics in TemplateMonster are published by third parties. TemplateMonster in this case simply provides a platform for search and purchase.
For this reason, the quality of themes may differ as in any service market. In general, the themes presented in TemplateMonster are of high quality and have a modern design with adaptability for mobile devices (more than 93%).
Cost
An interesting feature of the site is the ability to pay a fixed price for access to all materials through a subscription TemplateMonster "One". That is, you do not need to buy templates separately for $ 50-150 for a high-quality copy. You can pay monthly or even pay for lifetime access on a one-time basis.
The rates are as follows:
$199 – annual access to 14,000 products: templates for a variety of CMS, including E-commerce themes, plugins, graphics, unlimited installations, a year of round-the-clock technical support (tickets, live chat, Facebook community).
$599 – lifetime access to the service products listed above. The essence is clear: for those who have been engaged in web development for years, it is profitable to buy lifetime access, it will pay off a million times.
For WordPress, you can find a variety of themes from $10 to $150. The most popular themes cost about $75. Be prepared to pay that much for a high-quality theme.
Payment is accepted by cards and via PayPal, the transaction of payments is secure. A temporary subscription can be canceled in a couple of clicks if the need for it disappears. The moneyback is valid for 14 days. It works if you haven't downloaded anything yet during this time.
With a subscription "One" you get access to a wide range of products.
By points:
Materials for WordPress: themes, plugins, as well as templates for WooCommerce and Elementor;
WordPress plugins and modules for PrestaShop;
Online stores: templates for OpenCart, Magento, VirtueMart, PrestaShop, WooCommerce;
PowerPoint-templates for presentations;
HTML templates for websites, landing pages, mailing letters and other assignments; Templates for CMS WordPress and Joomla;
Graphics: PSD templates, illustrations, After Effects screensavers, templates for logos, certificates, social networks, resumes and corporate identity design.
What other templates does TemplateMonster offer?
Although WordPress is the most popular content management system for which TemplateMonster sells themes, it is not the only one for which you can purchase themes on this site. TemplateMonster also offers a wide range of themes for Joomla, MotoCMS, Elementor and Drupal.
Is there customer service when buying templates and other products?
TemplateMonster provides round-the-clock chat support and the ability to communicate by phone, but only for buying, downloading and installing themes. In addition, their website provides a simple knowledge base with articles on how to use TemplateMonster (e.g. buying templates, billing questions, etc.) where you can also ask questions.
The support service also has "consultants" who will be happy to recommend topics if you tell them exactly what you are looking for.
But as soon as your theme is installed on the site, technical support will be transferred to the creator.
Advantages and disadvantages of TemplateMonster
The main advantages of the service:
Huge selection of templates
A little outdated or frankly scary topics
Customer service is offered on all topics at no extra charge.
Themes are easy to find
Lots of seller information so you can shop safely
However, TemplateMonster has some drawbacks:
Several filter parameters are missing. Sorting by price or average rating is extremely useful.
The cost of popular themes is slightly higher than on other similar sites, although there is confidence that their quality will also be slightly higher.
Conclusions
TemplateMonster is a unique marketplace service that unites 5 million customers and many programmers under its brand. Every year they come up with something interesting, maintain the relevance of current positions - everyone is interested in a material incentive. If you are creating websites or are just going to try, then you should definitely take a look at this site.