Todoist review. Convenient service for creating and organizing tasks.
/

/

Todoist review. Convenient service for creating and organizing tasks.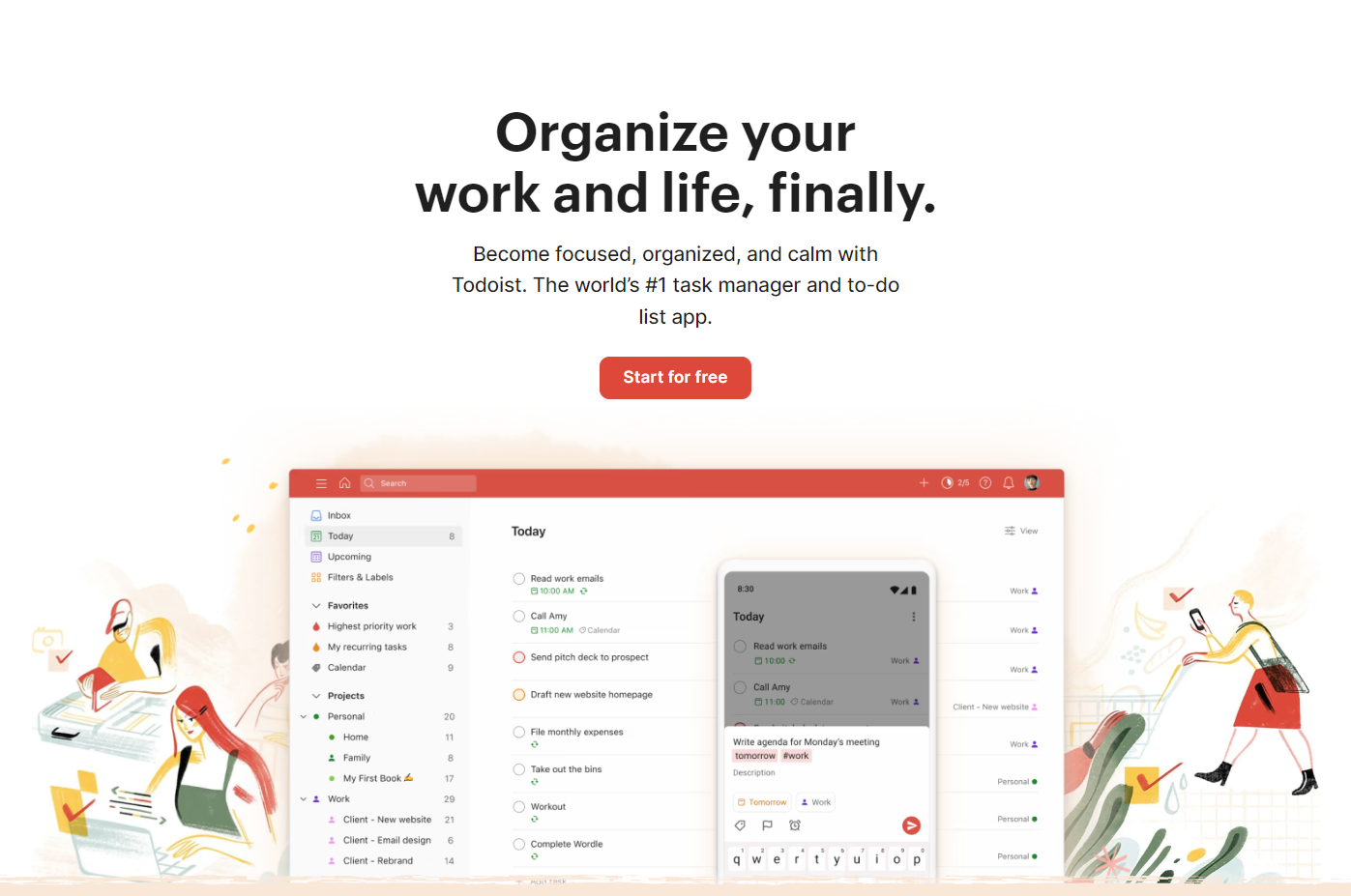 Todoist is a task planning and organization application that helps users achieve greater productivity in their daily lives.
It is available for all major platforms: Android, iOS, macOS, Windows, Android Wear, Apple Watch. There are browser extensions and a web version.
Todoist allows people to schedule chores, set reminders, and monitor their projects. The application can be used by people to increase productivity, improve workflows and create successful business models. It has many features, such as simple device synchronization, splitting projects into subprojects, and support for all popular platforms. Todoist helps users keep an idea of what needs to be done and in what order. It has free and paid versions and provides users with many options for interacting with the application.
With Todoist, it's easy and simple to sync data and share updates between different devices.
Users can also create and manage reminders, establish relationships between tasks, share task lists and create subtasks. The app supports customizable alerts and supports Google and Amazon Echo connections. In the ToDoist app, you can track progress towards achieving a goal and share tasks with other users. Todoist brings amazing productivity to projects through an intuitive interface and a variety of functions.
Todoist Free offers a number of powerful functions for organizing tasks. The user can create projects, share tasks with friends and track their completed tasks. This application supports more than 80 languages and allows users to create task notes, create priorities and set specific dates. The user can also synchronize tasks between different devices and connect the application to other applications such as Gmail, Google Calendar and Outlook. A scheduler and task hints are also included so that the user can complete tasks faster. The free version of Todoist offers limited features. At the same time, the user can get a general idea of the application and understand whether it is sufficient for his needs.
Some things you can Do Even with a Free Todoist Free Account:
Add subtasks
Invite other users
Prioritize the task
Set deadlines
Use labels and filters
Add tasks by email
Add comments mentioning employees
Use project templates
Archive completed tasks
View archived project tasks
Use integration capabilities with more than 100 other applications
Todoist Pro offers more opportunities for efficient and productive task planning. It includes many features such as reminders, achievements, goals, and loyalty programs that help people structure and track their tasks. It also offers additional features such as moving tasks, project templates, new analytics and tracking tools, the ability to add comments and files to tasks, as well as sharing projects with other users. All these features will help you gain more control over your tasks and achieve goals faster and more efficiently.
Todoist Pro includes the following features:
Ability to create annotations for tasks;
Give access to reports on your cases;
Infinite number of tasks;
Priority tasks up to 5 priorities;
Customizable colors for labels;
Tasks with deadlines and recurring tasks;
Automatic task confirmation or cancellation;
Notifications about tasks and their priority;
Full access to the task history;
Application integration;
Paid services for projects that can be customized;
Access to the Todoist app and browser plugins.
Todoist Pro is a professional service that provides users with powerful tools for creating and managing projects. With additional features, it helps users achieve their goals faster and more efficiently.
Todoist is a cloud service, so all your tasks and notes are automatically synchronized with any device where you use the app. If you use the app offline, your changes will sync the next time your device connects to the Internet.
A huge part of what makes Todoist such a great productive app is that it's full of features, but never seems overloaded. The interface design makes the experience simple and easy. When you first start using the application, in a short time you can understand how to use all the basic functions, such as creating tasks, scheduling deadlines, adding comments and marking tasks completed. The more you use Todoist, the more depth and features you will discover.
Todoist uses natural language input, which allows you to create tasks the way you would give instructions to someone. For example, to set the priority, just type P1, P2, P3 or P4. To add a due date, just enter the date and Todoist will translate it into the appropriate format. You will know that it was read as a date when you see the selection around it.
If you want the task to be repeated, say, every week on Wednesday, just type "every Wednesday" after the task name. A new instance of the task will be created next Wednesday after you mark the previous instance as completed. If you fail to complete the task within the allotted time period, the next instance will not be created. This prevents your to-do list from overflowing with uncompleted repetitive tasks.
Todoist is one of the best apps you can use to plan your personal and work schedule. It has a lot of task management functions, and its user interface is just great. The disadvantages of the application include the relative high cost and limited opportunities for collaboration compared to competitors.